Posted on February 15, 2010
Filed Under Technology | 1 Comment
We're still imagining new ways to float through the skies in airships. Korean Samsung Construction and Trading (Samsung C&T) is investing in the Seymourpowell Aircruise to further its interest in exotic materials.
Exotic this airship surely is – much more, for instance, than a dirigible with a cabin suspended below. "The initial design," says a Seymourpowell.com release, "proposes a bar/lounge zone, four duplex apartments, a penthouse and five smaller apartments."  It would be a hotel in the skies, traveling leisurely across oceans or wherever its "residents" wanted to go.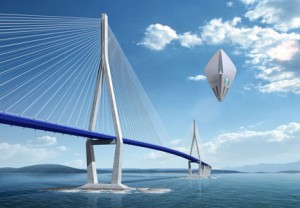 Whether it will ever be reach commercial scale is doubtful, says the MetalMiner blog. But dreams and visions don't necessarily have to be scaled-up – the Aircruise already exists in this YouTube video. (The lovely accompanying music, alone, will transport you.)
There is something entirely peaceful and benign, if very expensive, about this craft, which would be lifted by hydrogen and powered by solar energy. The details are in the links included here. The vision, as always with visions, is what matters most. – Doug Bedell
Comments
Recently
Categories
Archives
Blogroll