Posted on October 29, 2010
Filed Under Technology | Leave a Comment
While Dennis Owen is working in nuclear power, we need to get a word in for solar power as it's being envisioned in Great Britain, rooftop by rooftop. We don't mean in the form of  "conventional" solar panels, but, rather, sheet steel panels sprayed with solar cells. Read more
Posted on October 12, 2010
Filed Under Technology | Leave a Comment
Oh, boy, it's been a wondrous evening on the Internet. First, Google is developing driverless cars. And now we find that Airbus is anticipating building invisible airplanes. The aircraft manufacturer, Fox News reports, envisions airliners with transparent fuselages. That is, they would become transparent when the pilot pushes a button Read more
Posted on October 12, 2010
Filed Under Technology | Leave a Comment
It won't be available anytime soon, but in the foreseeable future you might be a passenger in a Google-driven car. That's right – Google engineers announced over the weekend that they have already logged 140,000 miles on seven test cars that can drive themselves, apparently safely and soundly. Read more
Posted on October 10, 2010
Filed Under Technology | Leave a Comment

Verizon, reports Government Technology, is about to start upgrading its wireless network to 4G speeds. This is a bit of utilitarian good news for first responders, engineers and others who move large files on their wireless devices. Read more
Posted on October 3, 2010
Filed Under Business, Technology | Leave a Comment
The other day, just up the rural road from where we live, a truck with an oversized load – maybe the cylinder of a farmer's new silo – was announced by the flashing lights of its escort truck. It was touch-and-go as the truck and its load turned the tight corner. We pictured the  convoy in all the antsy scrapes it would be in that day and wondered, mightn't there a better way to transport oversized loads that are too heavy for helicopters?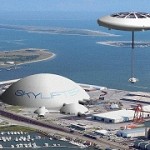 From Australia comes a hopeful "Yes!" The Aussie aeronautical company Skylifter has come up with a variation of a balloon – an inflatable flying saucer – that in three years or so it expects to be flying heavy equipment, even whole buildings, to remote areas. Heavy transport helicopters can lift "only" 20 tons. The Skylifter is envisioned to haul as much as 150 tons, a 700 percent increase, reports Popular Science.  With its thinner profile, the "saucer" should be less susceptible to winds during flight. It's expected to have a range of 1240 miles. The control pod, or aerostat, hangs below the "saucer" on what seems like a pole and has propellers for steering the aircraft. All-in-all from a distance, the Skylifter will probably look something like a child's skittles top.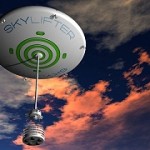 From the gallery of photos that Skylifter provides, the Skylifter looks like it could be transporting welcome loads to exotic places, even a whole "hotel." The Skylifter has obvious implications for nuclear power plant construction or refurbishment. Imagine not having to haul, say, new steam generators across the countryside.
Dirigibles have been another much-anticipated flying freight solution, so the Skylifter may have competition for lighter-than-air heavy lifting. – Doug Bedell
Recently
Categories
Archives
Blogroll