Posted on April 25, 2016
Filed Under Business, Communication, Education, Technology | Leave a Comment
Here's a fascinating example of where technology is taking us – using virtual reality viewers to simulate whatever setting we care to experience and learn from. The thought occurred that this immersive technique might possibly be useful (and certainly engaging) to technical writers with a visionary bent.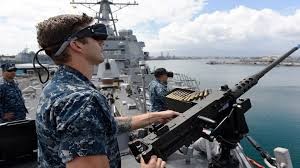 For example, the U.S. Navy at Pearl Harbor is using virtual reality at actual shipboard gun emplacements to detect and ward off simulated attackers. And there's a paper available (by five writers) on "Teaching Technical Writing Using 3D Virtual Reality Technology." We haven't read it yet, and virtual reality gear may be expensive to acquire and use. But when you're on a frontier, it's good to be aware of the possibilities. The future, as we know, has a way of advancing rapidly.
Suppose you work on a large site with lots of gear to monitor and use to its full operational advantage. With a virtual reality setup you could possibly simulate contexts of interest without leaving your desk. That could allow a highly efficient use of your creative energy. Of course, there'd be costs, possibly substantial ones, to get you to that point.
Or maybe you'd like to experience a setting that doesn't yet exist. We don't know what's involved in programming virtual reality, but it's likely that this scenario is already being experienced somewhere. "Here's where we're headed," a VR practitioner is saying, "and no, we really don't want to go there. Here's why." All without leaving your morning coffee.
The potential for teaching technical writing in a classroom setting using virtual reality is explored in the paper referenced above, whose writers are interested in providing "practical learning environments for students." And Google can likely direct you to other pathbreaking instructional material on VR.
The point is, virtual reality is a new technique for exploration and learning. Freshness tends to become ever more intricate, so we'd suggest considering VR while it's still an opening book for technical writers. – Doug Bedell
Posted on August 17, 2015
Filed Under Education, The Writing Life | Leave a Comment
Technical writing comes in many forms, dance being one of them. There, good technical writing – instruction in ballet moves, for example – can be life-changing. Beth Bluett de Baudistel, a long-time Australian ballerina and dance teacher, reminisces about her international career in the Sunshine Coast Daily in Queensland.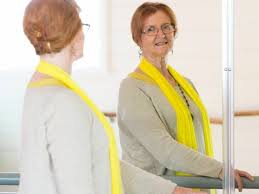 As an 18-year-old ballet soloist, Beth would would write evenings in her diary, half a world away from her family, "all the amazing technical concepts I had been learning. Little did I know that this would be the foundation of writing a dance curriculum like no other.
"Exercises based on how a student could sense the centrelink of the body from quite a young age – it had never been documented."
Her dance curriculum was rated a success "because it is giving the world of dance a way to train with excellence without the propensity to injury that other methods have.
"Innovative ideas come in seed form, and seeds have to be nurtured to grow," Beth says.
"I like the phrase 'do not discount small beginnings'.
"If you feel it is worthwhile, keep at it."
These are words befitting the experience of technical writers in all sorts of arenas. They're born of experience and close attention to detail with the enthusiasm of a participant observer who wants to share with others how to do something challenging safely.
Beth Bluett de Baudistel reminds us that conveying any complex information can properly be called technical writing if it is done to teach and inform. – Doug Bedell
Posted on May 26, 2015
Filed Under Education, Technology | Leave a Comment


Go on a springtime tour of Mars, our Spring at least. The National Aeronautics and Space Agency (NASA) is posting a series of photos taken by its Curiosity Mars rover over periods of days and months. There are shots of Curiosity climbing a Martian mountain and even of "a serene sundown on Mars." (Click on this photo for a sharper view.)
Such a photo gallery is a truly amazing accomplishment, considering that it's coming from an average distance between Earth and Mars of 140 million miles. It may seem like wasteland, but put that into the context of the solar system, and what it took to get there and there is much to ponder about extra-spatial relationships.
Not content with the merely amazing, NASA recently reported that it has succeeded in sharpening the focus of Rover's camera to get more sharply etched shots of the landscape there. How? By sending new software up there, of course.
Posted on December 22, 2014
Filed Under Communication, Education, Technology, The Writing Life | Leave a Comment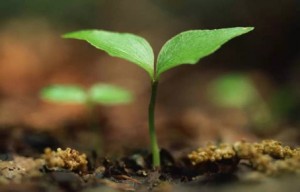 Here's a remarkable discovery on our part, illustrating anew how cooperative and interrelated our world can be if we let it. Bet you thought China somehow picked up its technical expertise on its own, enabling it to run rings around the U.S., in some respects, unassisted. Well, that's not really so. No more than it was when W. Edwards Deming made his first trip to Japan in 1947 and started a quality transfer process there that initiated "Japan's economic miracle".
We're learning from a post by Shannon Li on the Sigma Technology site that international contacts and cooperation have evidently been as important to China for technical communication as Deming-initiated quality awareness was for the Japanese. In 1997 a team of 12 technical communicators from the U.S. and Canada headed by Sam Dragga from Texas Tech University visited China and found it "hungry for technical communication education."
"With no profession and independent academic discipline here," Li writes from Beijing, "China was hungry for technical communication education. At that time, the English department trained translators, interpreters and tour guides for business and government organizations. Although there were courses like professional English and English for science and technology, the focus was on professional vocabularies and terms instead of on technical writing."
So, by gosh, a group of 50 English teachers from colleges and high schools in Jiangsu Province attended lectures by the U.S./Canadian team and prepared six-day courses from them that included topics "like technical communication history, cross cultural communication in technical writing, audience, document design, types of technical writing, etc." Between the lecturers and their Chinese students, technical writing began taking root in China.
Read more
Posted on February 3, 2014
Filed Under Communication, Education, Technology | Leave a Comment
Credit Elizabethtown College, in Elizabethtown, Pa.,  not far from Encore's home office, with being on the cutting edge of technological utility on behalf of others. "Utility," in this case, means using "crowdfunding" to raise funds to help people in Gambia, Africa, "establish a  business that will manufacture and sell cell phone chargers in The Gambia."

A group of Elizabethtown students and faculty is aiming to raise $6,000 to complete the design and assembly of photovoltaic mobile phone chargers for long-term field-testing in Gambia.  What's the big deal about that? Well, explains the E-town group, "Most rural Gambians have little or unreliable access to electricity in their country. Yet, the cell phone is readily available and an essential tool for routine daily communication and commerce. The cell phone offers a true lifeline. However, recharging is a major challenge."
So students and faculty at this Pennsylvania college are developing and making available to Gambians a sun-powered cell phone charger. Moreover, the charger is only the first of what they see as products to issue from an "ongoing  social  business incubator, focused on moving away from charity to develop the technical capacity and entrepreneurial spirit needed for solutions to other problems to develop locally."
What a terrific way of learning and serving at the same time! And what a credit to  creative American outreach in general! The E-town group is working with a U.S. Peace Corps program in Gambia.
For students to size up a development problem and then provide the means of alleviating it  in a quasi-commercial manner is a great learning, relational and philanthropic experience. May there be many upbeat cell phone messages exchanged in the rural sectors of Gambia! – Doug Bedell 
Posted on July 16, 2013
Filed Under Education, Technology | Leave a Comment
You may already know about Quizlet, or maybe your kids do and haven't told you of it yet. Chances are their teachers know about this web learning service – and likely love it.
We've just happened upon Quizlet and it appears to be a great means of creating your own "flash cards" or tests in any field you chose, or taking advantage of many that have already been created by users of the site. Name a subject, and it appears likely there will be a Quizlet test, or tests, for it. And there's a lady's voice that reads off titles and other information to help you get acquainted with any territory you're interested in.

 Entranced by Quizlet we've turned, where else, to Wikipedia to learn more about it. It turns out that Quizlet is "an online learning tool created by high school sophomore Andrew Sutherland in Albany, California, in 2005 and released to the public in January, 2007. "As of April 2011," Wikipedia adds, "Quizlet has over 8.7 million user-generated flashcard sets and more than 2.8 million registered users."
Wow! Andrew Sutherland's fortune is made! Except that Quizlet is free. But there is (we bet you've already guessed) an evidently more expansive Quizlet Plus for $15-a-year. Hence an income stream.  "As a memorization tool," we're told, "Quizlet lets registered users create 'sets' of terms customized for their own needs. These sets of terms can then be studied under several study modes." And, naturally, there are Quizlet Facebook and Twitter feeds.
By gosh, you could probably enter an entire nuclear power plant's components into Quizlet and study them from your laptop, wherever you are, if you're so-minded.
We are getting used to this, but we never fail to be amazed at the useful learning aids we find surfing the web. Quizlet, and Andrew Sutherland, are clearly part of learning's future.
Yet if anyone had told us there was an Albany, California, we'd have told them they were mistaken. We're from New York – but we've got more learning to do. – Doug Bedell 
Posted on April 15, 2013
Filed Under Education, Technology | Leave a Comment
Now, thanks to the Internet and blogging, you can be alongside practically anyone trying to do almost anything – like exceeding 400 miles-per-hour in a streamlined electric car. And you learn that the ones trying to set that mark are students at Ohio State University, which created TRC Inc. (the Transportation Research Center). That's where development of the vehicle, the Buckeye Bullet, has been underway. The current version is the Bullet 3. Ohio State students have been developing electric racing cars since the 1990s. What's an "early age" for enterprise anymore?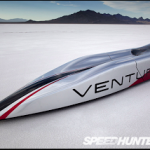 We happened upon news of this pending exploit on the web, of course. But these are automotive students, however. Their website doesn't clearly explain where they currently are, which makes it a bit frustrating to cheer them on.
Roger Schroer, a TRC technician and apparently a speed car driver, we're advised on an undated TRC page, will be heading to France late this month (we presume) to link up with the Federation International de la Automobile FIA, "the predominant international sporting body which regulates motorsports." We haven't heard anything yet about this automotive exploit in the news media, but if it's yet to be held, we hope we will. The "kids" deserve the attention.
(Roger, incidentally, expects to be driving ((or drove)) a replica of the first vehicle to exceed 100 KMH ((62 MPH)) – the "La Jamais Contente," or "The Never Satisfied," while he's in France. That event occurred in 1899. Never satisfied, indeed.)
While the Buckeye Bullet blog exists, the latest streamlined car itself hasn't been completed yet; it's in progress. This February's Scientific American had an article on it – "The Battery-Powered Bullet." It looks like a one-finned firecracker being readied to set off at the Bonneville Salt Flats in Utah. (The Bullet 2 topped 300 mph there. You can watch it on YouTube.) You can follow this high velocity effort on Twitter, where the Bullet is being chronicled by "the fastest Tweets on earth." One from a while back reads, "countdown to spring break: 10 days finally a chance for a solid bullet work week!" (Geez, and all we did during spring break was…)
Whatever the exact status of the latest Bullet may be, you can't expect engineering students to have press agents, too. Tuition only goes so far. These kids have been doing great work, and we cheer them on! (Here, from Wikipedia, is as much of the history of the program as we can put together.) – Doug Bedell
Posted on March 21, 2013
Filed Under Communication, Education | Leave a Comment
This is only for kids in K-12 and their teachers, but it's about, you might say, a form of technical writing, rap music. Turns out that The New York Times Learning Network has been holding an annual rap music-writing contest, and the 2012 winners were recently announced. We figure there will be another rap contest for 2013, so check for a Times' listing around next November.
Meanwhile, Flocabulary, "an online learning platform that features educational songs, videos and resources for K-12," has supplied a lesson plan and rubric for helping teachers guide their students "through the rap-writing process." (These are from last year's contest, but we doubt the methodology is changing all that much.)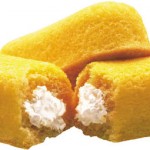 There's a lot more scope, of course, in writing rap lyrics than technical procedures. The Times received 634 entries from 1,104 students, many of them participating in groups. "Many students mourned the possible loss of the Twinkie in their raps about the news of 2012," The Times advises. Which led us to check on what actually happened there, and the buyers of the "snack cake" portion of the bankrupt Hostess Brands, Apollo Group Management and Metropoulos & Co., are aiming to have Twinkies back on the shelves by this summer. Something more to sing (chant?) about.
So spend the rest of 2013 burnishing up your rhythm and rhyming for this year's rap music contest. You can have the staccato rhythms and would-be lyrics bouncing around in your head as you tour the plant on more pedestrian writing assignments. – Doug Bedell
Posted on November 12, 2012
Filed Under Education, Technology | Leave a Comment
Educators are continually faced with the challenge of upgrading the image of vocational or technical education into one that's representative of currently pertinent, enticing career fields. That's increasingly important as the costs of four-year colleges become steadily more prohibitive. (For a lot of families, they've already passed the manageable point.)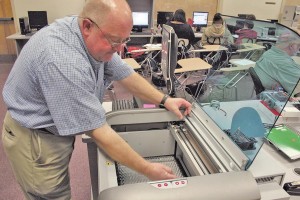 So it's encouraging to see, in a post in the Picayune Item, a school district in Mississippi changing not only the name of its "technical applications" classes but upgrading the nature of the training itself. It will now include "3D printers, Vex robot kits, a laser engraver and a state of the art milling machine." That's an encouraging way to prepare young people for the realities of today's technical workplaces, those in which they can be at the vanguard of their fields.
Read more
Recently
Categories
Archives
Blogroll