Posted on January 29, 2010
Filed Under The Writing Life | Leave a Comment
I've been a contract technical writer for over 20 years, so I'm used to the ebb and flow of new clients and new projects.  I say that, but I have to acknowledge the rumbling in the gut that arises when the phone isn't ringing and the email in-box contains little more than the Viagra solicitations that made it past the spam filter.
Those dry spells suddenly loom large as you forget all the interesting and lucrative projects you've enjoyed, and instead watch the number in the lower right corner of the corporation's QuickBooks Cash Account ledger drift downward.  It's usually about that time, with prospects looking dim, that the phone rings and you hear something like the following:
•  "My Master's thesis is due at the end of the month and I need some writing and editing help."
•  "Do you do resumes?"
•  "I've finished the first few chapters of my book and I think I need an editor."
•  "I need help with my business plan… uh, my budget is tight so can I pay part now and the balance when I land my start-up funding?'
Your mind instantly does the calculation.  What the hell, I'm not very busy.  This guy surely can't pay my hourly rate, but if I cut the rate he might go for it, and at least I'd be billing a little.  Yes, my last writing project was a six-month stint at GE writing about laser-induced isotope separation, and while this guy's project isn't technical I'd be helping someone… and remember, even Steve Jobs needed startup help at some point.
I laugh (no make that shudder) now when I think about how many times I went down that path early in my career.  Only once, as I'll explain below, have those calls ever been worth the ensuing headaches of handholding and 60 day late payments.  Now when those calls come in I say "No thank you" but in my own way.  I hear out the caller and ask a few questions.  I explain that my business is highly technical writing and then I tell them my hourly rate.  Most promise to think about it and call back.  Knowing they won't, I also turn to my list of local novice writers and resume services and offer a few names.  I'm invariably polite and thank them for contacting ENCORE (Christian kindness is free and maybe they'll remember me when that crazy business plan lands VC funding).
The one time it worked?  A woman called in the middle of a very bad dry spell wanting help writing an award acceptance speech she had to make at a national fraternal organization's convention.  We went through the usual conversation and she promised to think about it and call back, and darned if the next day she did.  I interviewed her for the speech, and over coffee in her living room I met a wonderful, kind, and accomplished woman.  I prepared the draft, we tweaked it together, I emailed her the final, and I had a check two days later.  She called to say the speech was a success, and son of a gun if she didn't call me two months later to write another.
You're a technical writer.  Stick to your knitting and learn to say "No thank you."  But be alert for that rare and delightful exception to the rule. – Dennis Owen
Posted on January 28, 2010
Filed Under Technology | Leave a Comment
We've been enjoying Wired's spread on bullet trains finally (emphasis added) coming to the U.S. Yes, the historical tablet accompanying the Wired pieces shows that Japan introduced a 130 mph train in 1964, France a 161.6 mph one in 1981, China a 267 mph train in 2004 and France, again, a big-wheeled train capable of 357 mph in 2007.
We've long needed a fast, low-hassle alternative to airline travel. We've be waiting so long, on fact, one might think the airlines have been responsible for railroad planning and promotion. (At the current speeds they do travel, though, AMTRAK's trains aren't bad. We went coast-to-coast and back on a couple last year. Very pleasant, and no pat-downs.)
The St. Petersburg Times story reporting on President O'Bama's visit to Tampa today to announce $1.25 billion in federal funding for a high-speed rail line there advises on the byplay between the President, Vice President Joe Biden and the Florida crowds, but doesn't say how fast the "high-speed" trains are expected  to run. That's part of the problem – our personality-based, politically powered culture tends to shun specifics of technology – even big-time concepts like high-speed rail get shunted aside in the clamor.
Wired says the Tampa-Orlando trains are supposed to run at  180  m.p.h. We hope they do. – Doug Bedell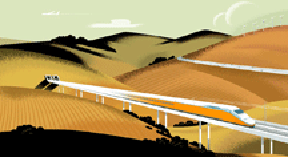 Wired illustration by Paul Rogers
Posted on January 28, 2010
Filed Under The Writing Life | Leave a Comment
Wipe that smug look off your face… you didn't catch this technical writer misspelling "Vocation." The word "Vacation" is intentional and entirely appropriate.
As a contract technical writer I have traveled a lot. It's one of the perks of what I do.  It's less hard on the family now that the children are grown, so I tend to do more of it and in fact I seek out interesting assignments in interesting places.
I have some wonderful memories of my writing "vacations."  I've prowled an amazing used book store a few miles from Texas A&M University.  I've partied at a Moscow restaurant with Russian engineers watching barely-clad showgirls through a vodka-induced haze.  I've returned from a "hard" day of writing and walked to a lake a hundred feet from the front door of my apartment in Virginia and fly fished for bass until it was too dark to see the fly.  I've called my wife from the beach in La Jolla to tell her it is 70 degrees and the skies are blue, and she's told me it's twenty below, the pipes are frozen, and maybe it would be a good idea for me to get my ass home.  I've worked on the set of a simulated nuclear plant control room on a sound stage in Pittsburgh—surrounded by the set of Mister Roger's Neighborhood—making last-minute edits to a videotape script.  I've been welcomed like a long-lost relative by the hospitable folks at a Virginia church.  During the last few years of my father's life, when my work took me to the San Francisco Bay Area, I'd stay with him in my childhood home and we'd just talk the evening away.  And my wife and I have turned writing assignments into real vacations; a week in Vienna, a warm mid-winter stay in Florida, and more.
Even the writing projects close to home are vacations.  Invariably, you make new friends, learn about new (to you) technologies, lunch at new restaurants with your colleagues, and generally expand your horizons.
Do you write?  If so, you are a lucky man or woman… count your blessings and enjoy your vacations. – Dennis Owen
Posted on January 22, 2010
Filed Under Technology | Leave a Comment
We've been waiting for electric cars to start making an appearance on U.S. highways – not hybrids but full-out electric models. Chevrolet's much-anticipated Volt is now scheduled for launching in November. It will run 40 miles on an electric charge and, says Chevy, "uses a range-extending gas generator that produces enough energy to power it for hundreds of miles on a single tank of gas." What that's referring to, explains Wikipedia's article on the Volt, is "a small 4-cylinder gasoline internal combustion engine (that) creates electricity on-board using a 53 kW (71 hp) generator to extend the Volt's range to more than 300 miles (483 km)."
Volts are scheduled for only 10,000 cars in 2011 – their introductory year – and maybe 60,000 in 2012. And the price is estimated to be near $40,000, before any federal tax credits applicable by then. So that's low output and a high price, for starters anyway, on a U.S. electric car.
We were nonetheless encouraged by a Wall Street Journal blog post in December on a joint-venture between A123 Systems, a Massachusetts-based battery company, and SAIC (Shanghai Automotive Industry Corporation), "China's biggest auto-maker by volume which already has a couple (electric cars) in the pipeline."
A123, a maker of  lithium ion batteries, seemed to have lost its electric car prospects when Chrysler  dropped its plans for one. So the Chinese deal has given the U.S. company a boost, and least for now.
But the Journal notes there are other  interests aiming for electric cars – "local (U.S.) rivals backed by Warren Buffet, playing the same game." The technology is either so vexing to producers, or perplexing to car buyers, that lots of folks seem to be wishing there wasn't a need for it. But there is.
Even so, oil prices are probably going to have to rise again, and stay higher, for us to get serious about getting electric cars on U.S. roads. As in so many other areas, though, the Chinese may provide a push. – Doug Bedell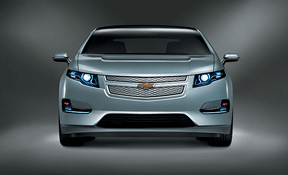 The Chevrolet Volt
Posted on January 19, 2010
Filed Under Technology | Leave a Comment
Picture yourself in total darkness, with streaks of flourescent light darting across the dark or suggestive of bigger, slower moving  creatures.  In this instance,  you'll be deep in the ocean, fortunate to have David Gallo as your guide on a deep-sea dive.
Gallo was trained as a geologist but he's an acclaimed oceanographer now. On this TED.com video he narrates – at a screen in a lecture hall – a dive  into regions where undersea creatures have an amazing capability to camouflage themselves to hide from predators like barracudas.  Changing color and texture, the wiley creatures fade into plant or rock clusters in a manner that makes them disappear before your eyes. The audience in Gallo's lecture hall gasps and applauds – it can't help but respond in wonder.
The florescence is explained as "bioluminescence," a term that almost does justice to the softly glowing appearance of these dwellers in the deep. Photographed with Dr. Edith Witter's undersea camera, there are fish with pulsating eyes and pinwheel bodies – a truly  astonishing display of solitary ocean creatures. You realize that they have no idea of what they're missing in an "atmosphere" of water, and you wonder, what may we be missing in our own airy environment.
Go on this all too brief tour with Gallo, it's a marvel of undersea photography and knowledgeable narration. If your life or business revolves around high-tech, watching this video should make you humble: whatever you do, it pales in comparison to nature's technology.
Gallo works as an undersea explorer, sometimes in partnership with Titanic-hunter Robert Ballard, and travels on behalf of the Woods Hole laboratories to explain how the oceans are being mapped in "unprecedented clarity and detail." – Doug Bedell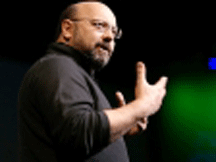 David Gallo
Recently
Categories
Archives
Blogroll