Posted on October 27, 2011
Filed Under The Writing Life | Leave a Comment
Put this aside for Halloween – next year's Halloween. Because if you're going to observe Halloween as Shawn Thorsson does in Petaluma, CA, it takes a full year to get ready.
This post is a bit of a spooked diversion, true. But we're indebted to MAKE magazine for introducing us to Shawn, who evidently goes BIG into whatever interests him. As MAKE puts it, "This guy doesn't make costumes and props, he creates something of a reality distortion field around him and his creations."
Read more
Posted on October 20, 2011
Filed Under Technology | Leave a Comment
We're not at all inclined to write about baby pictures – usually. But take a look at this remarkable, really, video on Mashable under the heading "A Magazine is an iPad That Does Not Work." It shows a baby girl playfully fingering an iPad screen and making it (the content) move, and then having a frustrating time trying to make the pages of a paper magazine behave in the same way. Note how much she enjoys the one over the other.
What a revelation! Is this how kids will be expecting content to behave in the future? Probably so, and what does that augur for the fate of media as we know it? We don't really want to contemplate that, because we don't know yet how to do so. Lance Ulanoff, who provides the Mashable post, writes, "Isn't it cute the way the baby keeps trying to touch, swipe and otherwise engage with the dead-tree magazine pages? Each tap might as well be a knife in traditional media's heart." And so it might!
Read more
Posted on October 9, 2011
Filed Under Communication, Technology, The Writing Life | Leave a Comment
Along with all the tributes to Steve Jobs, and a virtually inexpressible sadness at his passing, comes a memory of the first Macintosh I encountered, and quickly came to love. At the time I worked at the Three Mile Island Nuclear Station, where I was the post-accident communication manager. That was not long after Apple Computer introduced the Mac early in 1984.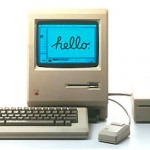 We were preparing to defuel the damaged reactor core and to restart the undamaged companion reactor. Permeating all the activity at TMI in those days was a renewed commitment to quality, to absorbing the lessons of the Unit 2 accident and building a strong safety culture. Employee communication was important to that end, and helping to improve communication was the Mac's role.
Read more
Posted on October 3, 2011
Filed Under Communication, Technology | Leave a Comment
Sharon Friedman, professor of journalism and a communication stalwart at Pennsylvania's Lehigh University, has now analyzed the news coverage of the world's three major nuclear power accidents – Three Mile Island in 1979, Chernobyl in 1986 and Fukishima this year. The coverage of TMI, she notes (dispassionate professor that she is), "was called abysmal". It improved somewhat for Chernobyl and, with the Internet a major factor this last time, "was much more extensive and much better in many cases because of the emphasis on explanations and background information and the visual and graphics capabilities of a number of media organizations."
Yet, in a current, magisterial article in the Bulletin of the Atomic Scientists, Professor Friedman remains dismayed over the overall quality of nuclear coverage, especially on CNN (which has the most time to devote to it), and troubled by the fading presence of newspaper reporters on the "nuclear beat" (which was never large to begin with).
Read more
Recently
Categories
Archives
Blogroll