Posted on October 20, 2014
Filed Under Communication, Technology | Leave a Comment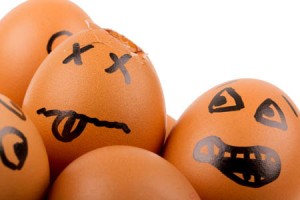 When communication doesn't work, becomes too dense or defiant, who's at fault? Why,  you'll say, the technical writer who created the offending material. Could well be. Yet Mark Baker on a Tech Writer Today post, says the reader, as well, has a role to play in coping with printed material. But, definitely, that's not to let the writer off the hook.
"The curse of knowledge is, of course, a real and serious matter," Baker writes. "And a good writer is certainly one who is aware of, and able to compensate for, the curse of knowledge, at least to a degree. But the problem with blaming the failure of communication on the curse of knowledge alone is that it leads to the expectation – which (Stephen) Pinker (in a cited New Yorker essay) explicitly states – that the cure is 'to explain the jargon, or spell out the logic, or supply the necessary detail.'"
Of course, a technical writer should be as accessible as possible to his or her readers. But the cure for dense writing, Baker argues, isn't simply more words in the presumed interest of clarity. It's to expect a reader to make some effort to understand what you have tried to present, provided that you, the writer, have indeed tried diligently to be clear. Due diligence becomes the key.
Baker advises technical writers that "One of the most important things to remember when providing such resources is that the reader's goal is not to understand what you have written. A meeting of the minds is not what the reader has in mind when they crack open a technical manual. Fully understanding the contents of the writer's mind is not what the reader is aiming for. Rather, their aim is to understand something useful about the real world."
That calls, perhaps a bit more simply, for a technical writer to approach his or her material in the spirit of empathy, or walking in a reader's shoes. Before tackling the material, a technical writer, like all writers,  should be thinking, "Now, who will be reading this, for what purpose?" You'd think that would be self-evident for instructions to a shared workplace or the equipment therein. But not really. People, even colleagues, come to writing from all sorts of backgrounds and levels of experience.
You've got, first, to think clearly about "What am I trying to get across here, and what's the most accessible way to do it?" Not simply plunge into the instructional task, even if you face some sort of deadline for completing it.
Stepping into a reader's shoes is  mandatory for any sort of successful writing, technical instructions included. With that done, instructions become guidance, and who doesn't appreciate effective guidance? – Doug Bedell   
Posted on October 7, 2014
Filed Under Technology | Leave a Comment
First there was concern over whether robots would replace human workers to such an extent that the economy might collapse under mass unemployment. (At least we think we remember such discussions – Google could probably help refresh us.) Now, though, robotics is an established industrial science, more robots are coming, and the question has become, according to the MIT Technology Review, "Should Industrial Robots Be Able to Hurt Their Human Coworkers?"
Hurt them, us? Picture a vengeful robot on a factory floor who thinks it got too much, or too little, oil, or programming or whatever. Should it be able to zing the engineer it deems responsible with a conk or two? Well, that's not exactly the question. It's more like what the  U.S. Occupational Safety and Health Administration (OSHA) or the International Standards Organization (ISO) will tolerate in regulations being applied to the use of  "collaborative robots" that work along with humans. Sort of like the early (or later) days of nuclear power, we imagine, and the U.S. Nuclear Regulatory Commission.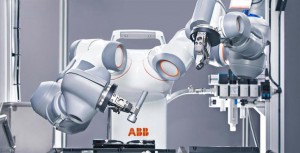 A  conference was held last week on collaborative robots by the Robotics Industry Association (there was a continental breakfast and, to the best of our knowledge, no robots attended) at which it was noted that, so far, robots have been used mostly by small manufacturers where OSHA assumes they will operate only where humans aren't nearby. (Talk about a caste system!) "We live a happy life until we reached the big companies," says Esben Ostergaard, chief technology officer at Universal Robots, a Danish company, "– then we got all these problems about standards."
Recently
Categories
Archives
Blogroll