Posted on January 19, 2010
Filed Under Technology | Leave a Comment
Picture yourself in total darkness, with streaks of flourescent light darting across the dark or suggestive of bigger, slower moving  creatures.  In this instance,  you'll be deep in the ocean, fortunate to have David Gallo as your guide on a deep-sea dive.
Gallo was trained as a geologist but he's an acclaimed oceanographer now. On this TED.com video he narrates – at a screen in a lecture hall – a dive  into regions where undersea creatures have an amazing capability to camouflage themselves to hide from predators like barracudas.  Changing color and texture, the wiley creatures fade into plant or rock clusters in a manner that makes them disappear before your eyes. The audience in Gallo's lecture hall gasps and applauds – it can't help but respond in wonder.
The florescence is explained as "bioluminescence," a term that almost does justice to the softly glowing appearance of these dwellers in the deep. Photographed with Dr. Edith Witter's undersea camera, there are fish with pulsating eyes and pinwheel bodies – a truly  astonishing display of solitary ocean creatures. You realize that they have no idea of what they're missing in an "atmosphere" of water, and you wonder, what may we be missing in our own airy environment.
Go on this all too brief tour with Gallo, it's a marvel of undersea photography and knowledgeable narration. If your life or business revolves around high-tech, watching this video should make you humble: whatever you do, it pales in comparison to nature's technology.
Gallo works as an undersea explorer, sometimes in partnership with Titanic-hunter Robert Ballard, and travels on behalf of the Woods Hole laboratories to explain how the oceans are being mapped in "unprecedented clarity and detail." – Doug Bedell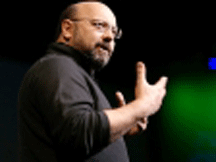 David Gallo
Comments
Recently
Categories
Archives
Blogroll