Posted on January 22, 2010
Filed Under Technology | Leave a Comment
We've been waiting for electric cars to start making an appearance on U.S. highways – not hybrids but full-out electric models. Chevrolet's much-anticipated Volt is now scheduled for launching in November. It will run 40 miles on an electric charge and, says Chevy, "uses a range-extending gas generator that produces enough energy to power it for hundreds of miles on a single tank of gas." What that's referring to, explains Wikipedia's article on the Volt, is "a small 4-cylinder gasoline internal combustion engine (that) creates electricity on-board using a 53 kW (71 hp) generator to extend the Volt's range to more than 300 miles (483 km)."
Volts are scheduled for only 10,000 cars in 2011 – their introductory year – and maybe 60,000 in 2012. And the price is estimated to be near $40,000, before any federal tax credits applicable by then. So that's low output and a high price, for starters anyway, on a U.S. electric car.
We were nonetheless encouraged by a Wall Street Journal blog post in December on a joint-venture between A123 Systems, a Massachusetts-based battery company, and SAIC (Shanghai Automotive Industry Corporation), "China's biggest auto-maker by volume which already has a couple (electric cars) in the pipeline."
A123, a maker of  lithium ion batteries, seemed to have lost its electric car prospects when Chrysler  dropped its plans for one. So the Chinese deal has given the U.S. company a boost, and least for now.
But the Journal notes there are other  interests aiming for electric cars – "local (U.S.) rivals backed by Warren Buffet, playing the same game." The technology is either so vexing to producers, or perplexing to car buyers, that lots of folks seem to be wishing there wasn't a need for it. But there is.
Even so, oil prices are probably going to have to rise again, and stay higher, for us to get serious about getting electric cars on U.S. roads. As in so many other areas, though, the Chinese may provide a push. – Doug Bedell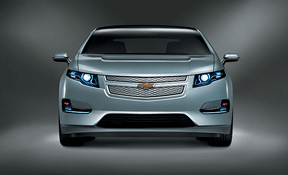 The Chevrolet Volt
Comments
Recently
Categories
Archives
Blogroll