Posted on January 28, 2010
Filed Under Technology | Leave a Comment
We've been enjoying Wired's spread on bullet trains finally (emphasis added) coming to the U.S. Yes, the historical tablet accompanying the Wired pieces shows that Japan introduced a 130 mph train in 1964, France a 161.6 mph one in 1981, China a 267 mph train in 2004 and France, again, a big-wheeled train capable of 357 mph in 2007.
We've long needed a fast, low-hassle alternative to airline travel. We've be waiting so long, on fact, one might think the airlines have been responsible for railroad planning and promotion. (At the current speeds they do travel, though, AMTRAK's trains aren't bad. We went coast-to-coast and back on a couple last year. Very pleasant, and no pat-downs.)
The St. Petersburg Times story reporting on President O'Bama's visit to Tampa today to announce $1.25 billion in federal funding for a high-speed rail line there advises on the byplay between the President, Vice President Joe Biden and the Florida crowds, but doesn't say how fast the "high-speed" trains are expected  to run. That's part of the problem – our personality-based, politically powered culture tends to shun specifics of technology – even big-time concepts like high-speed rail get shunted aside in the clamor.
Wired says the Tampa-Orlando trains are supposed to run at  180  m.p.h. We hope they do. – Doug Bedell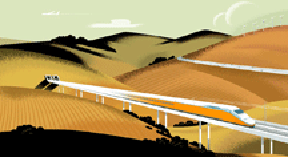 Wired illustration by Paul Rogers
Comments
Recently
Categories
Archives
Blogroll