Posted on February 5, 2010
Filed Under Business | Leave a Comment
Picture yourself as the last living representative of your craft or business. What state would you want to leave them in for whomever else might be interested in your life's role?
Such epochal thoughts occurred to us in reading about the passing of Boa Sr in the Andaman Islands, the last living member of  one of the world's oldest tribal cultures.
Where are the Andaman Islands?  They're out in the Bay of Bengal, not too far from India, which governs them. But no matter where Boa Sr, or you, were or are located, the idea of being the last living representative of a culture stirs us.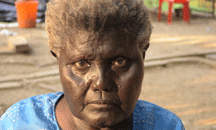 Boa Sr lived through a tsunami and the Japanese occupation of her homeland and was the last native in her island chain who was fluent in Bo, a 65,000-year-old. originally Neolithic (New Stone Age) culture. For several years until she died recently, she had no one else to speak her native language to. (Bo is one of 10 Great Adamanese languages.)
So, you may ask, suppose we were the last living representatives of  our culture, craft or way of life? What imprint would we be leaving on history's parchment? An idle question? Not at all. For we will be leaving a recollection of who we were, and how we dealt with others, among our friends and associates, at least.
There's something especially poignant about noting the passing of Boa Sr, for she was the last of an entire culture. Until roads were built in the 1970s, her Adamanese people resisted colonizers and missionaries from the forests of their homeland. We don't live in forests, but what culture, what accomplishments, what imprint are we creating for posterity to recall?
Boa Sr's death reminds us that this isn't a playful question. It's a cultural one, involving the culture that we're creating and, one day, will be leaving, too. Like Boa Sr, we are all, in our own settings, aspects of a creation that keeps passing and recreating itself. With other players, or maybe none. – Doug Bedell
Comments
Recently
Categories
Archives
Blogroll