Posted on February 9, 2010
Filed Under Technology | 1 Comment
They're not yet Captain Marvel but, by gosh, they're getting close, at least in their upper bodies.  New industrial robots being developed jointly by NASA and General Motors have amazing dexterity in their arms and even their fingers.
NASA and GM are working together on this next generation of robots because they have applications both for exploring space and building cars.  They're called Robonaut 2, or R2. The original Robonaut is 10 years old now.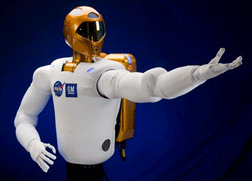 R2 looks almost musclebound.  It can lift 20 pounds with each arm, "about four times that of other humanoid robots," says NASA.  Robots have long been used in the auto industry, of course.  Perhaps at some point  Robonaut 2 could be introduced to Ford's RUTH, which does interior work on Ford vehicles, but so far without having a humanoid look.  I wonder what that mating might yield?
R2's "legs" at this point may be only a pedestal.  But who knows about future generations and what their builders might need in terms of robotic assistance – like hiking on the moon or mars.
Robonaut is an impressive contrast to some earlier industrial robots of which we have first- hand knowledge.  In the 1980s and '90s we were involved in the recovery program for the Three Mile Island Unit 2 nuclear power plant after the 1979 accident there.  Several robots were developed to deal with cleanup and disassembly tasks in high radiation areas unsafe for human work.  Most of those were designed and built at the Robitics Institute at Cernegie Mellon University under the direction of the brilliant William (Red) Whittaker, or at his spinoff company RedZone Robotics.   By today's standards they were rather primitive beasts (see photo nearby).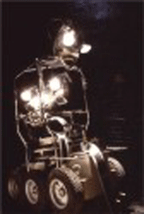 Some were quite successful (reactor internals disassembly) while others were largely expensive failures (removing radioactive sludge from the reactor building basement).
Nonetheless, these and thousands of others are all part of the robot lineage that have taken us to Robonaut 2, RUTH, and more.  Like the Apollo astronauts, when Robonaut's descendants walk on Mars, we wonder if they will use their telescopic vision to look at a pinpoint of light in the heavens and dream of home. – Doug Bedell
Comments
Recently
Categories
Archives
Blogroll