Posted on February 23, 2010
Filed Under Technology | 1 Comment
Truly ominous confirmation of  our post on ebbing U.S. innovation comes from a New York Times article, "Millions of Unemployed Face Years Without Jobs."
How is The Times able to deliver this news of the "new poor"? A consensus is developing among economists that the recovery from this recession "will leave more people behind than in past recessions, failing to create jobs in sufficient numbers to absorb the record-setting ranks of the long-term unemployed."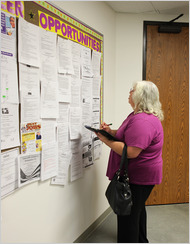 And that has much to do with the lagging U.S. rate of development in science and technology, along with turning technological thinking into new U.S.-based businesses and jobs.
There are now 6.3 million Americans who have been unemployed for six months or longer, "the largest number since the government began keeping track in 1948. That is more than double the toll in the next-worst period, in the early 1980s."
Schools, colleges and workplaces that are unable to attract more young people into science and technology will see them, instead, waiting haplessly on unemployment lines. This is a truly frightening prospect, the dark side of the American dream when it falters.
"Every downturn," notes The Times,  "pushes some people out of the middle class before the economy resumes expanding. Most recover. Many prosper. But some economists worry that this time could be different. An unusual constellation of forces — some embedded in the modern-day economy, others unique to this wrenching recession — might make it especially difficult for those out of work to find their way back to their middle-class lives."
We have exported job opportunities and are losing our technological edge against the countries where those jobs have gone. Truly a double whammy, unless we start thinking Sputnik-like and figure out how to do more technically-grounded work at home. We need a renewed job market, and it won't come quickly. – Doug Bedell
Comments
Recently
Categories
Archives
Blogroll