Posted on February 26, 2010
Filed Under Business | 2 Comments
Oh, my goodness. There was American statistician W. Edwards Deming addressing a group of Japanese industrialists in 1950, at the Mt. Hakone Conference Center, on the subject of statistical product quality administration, which had been introduced in the U.S. in the 1940s.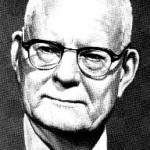 "The knowledge and brains applied to statistics by the Japanese are an essential national resource; it is important in the same way as water power, forests, and railroads," Dr. Deming told his attentive listenders, "And that statistical knowledge, much like water power, is not useful at all unless it has an impact on work opportunity and work (itself)."
There's more: "However, no matter how excellent your technicians, you who are leaders, must strive for advances in the improvement of product quality and uniformity if your technicians are to be able to make improvements. The first step, therefore, belongs with management," Dr. Deming told those Japanese executives. "First, your company technicians and your factories must know that you have a fervor for advancing product quality and uniformity and a sense of responsibility for product quality."
All the apologies we have been hearing from Toyota executives of late would not have been necessary if they had kept Dr. Deming's words before them. It's profoundly interesting that the quality movement that Dr. Deming's 1950 lectures spurred in Japan did not take hold in the U.S. until the 1980s, when Dr. Deming had to be "discovered" by NBC television at his home in Bethesda, Md. By then, Japanese attention to quality was almost legendary, but it always depended, and continues to depend, on management's commitment to its principles.
So, when you have James Treece, of Automotive News, a veteran Toyota observer, noting that "Toyota has a deep preference for secrecy rather than openness," which produces "arrogance, complacency, and understaffing,"  you realize the importance not only of initial learning, but of learning that's continually reinforced by alert executive leadership.
Dr. Deming had been invited to Japan by General MacArthur to help with the 1951 Japanese census. He found Japanese business executives despairing that they would never be known for producing anything but junk. When he encountered some Japanese  statisticians interested in promoting quality control, he rallied them. Next, their managers.
"In the last ten years," Dr. Deming continued in his Mt. Hakone talk, "there has been no scientific method which has experienced such rapid expansion as has statistical theory. In the context of today's Japan, the most useful thing for manufacturers could be nothing but the appropriate application of statistical techniques."
The rest became Japanese and world industrial history – and dismay, when a company like Toyota overlooks quality's grounding principles – awareness, persistence and honesty. (Such as trending consumer complaints of acceleration problems, and responding to them promptly.)
Quality principles don't have to be reinvented; they have to be recalled and remembered. – Doug Bedell
Comments
Recently
Categories
Archives
Blogroll