Posted on March 9, 2010
Filed Under Technology | Leave a Comment
NASA exists to satisfy a national travel itch – we want to explore  space and NASA's rockets are the means of doing so. The problem is, there are only a few celestial destinations we'll be able to reach in the next few decades. And NASA needs not so much a map as a method to get to them.
President Obama wants to develop better rocketry before heading off again to the moon, or to somewhere else reachable in space, perhaps an asteroid and, ultimately, Mars. Truly, this is a high technological challenge.
As The Washington Post recently reported, "future space flight, NASA officials say, now depends on new rocket science and where it can take us."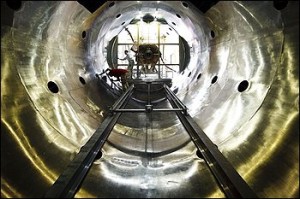 So NASA needs not to be wistful, but extra ingenious. Practicality never counted for so much in technological terms. If we're going to venture further into space, we need better rockets. Our reach into space depends on getting better, ever more ingenious, technically.
Like the original moon program itself, space is challenging our technical genius. We reach new frontiers, now, by having better propulsion systems. If we don't come up with them, we stay home.
Maybe we should stay home anyway, some will say. But the space program has always been a key means of technical progress, with developments in space exploration being adapted and dispersed for everyday use.
So good luck on those rockets, NASA, and anyone else who can help us explore the universe. We're getting really itchy again for extraterrestrial travel.
– Doug Bedell
Comments
Recently
Categories
Archives
Blogroll