Posted on March 12, 2010
Filed Under Technology | Leave a Comment
The debate over climate change troubles me, especially now that the doubters seem to be gaining. But I don't hold to the irritating "conclusion" reached by Bill Chameides, Dean of Duke University's Nicholas School of the Environment and a member of the Natonal Academy of Sciences, who presents some of the latest poll findings on The Huffington Post.
Noting that "America has experienced a cool patch of  late," Chameides writes that "Some scientists have conjectured that it has something to do with the jet stream. But what do they know? I think it could be due to the Tea Party. With all their speechifying, finger-wagging, and chanting, they may have used up all of the nation's hot air. "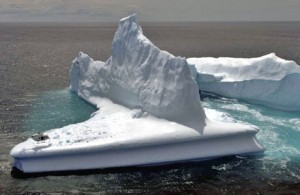 That sounds pretty undeanly to me. The problem with climate change is that it's a long-term trend, not immediately measurable in any conclusive way. And that sort of reassuring evidence seems to be what many of us want.
I write as a spring rain washes away the last of a huge pile of snow we've had out front for weeks now. We've had a rough winter here in Central Pennsylvania. But that, in itself, doesn't say anything decisive about whether the climate is heating up or cooling down. We've got to be patient about scientific things.
More importantly, when a dispute involves the state of the entire planet and its atmosphere we have to err on the side of caution. That is, we should be acting as if the climate is heating up, even if we can't be completely sure that it is. (Even though most scientists, apparently, would argue about that.) The risks if we do little or nothing and the scientific consensus is correct are just too great. Prudence matters more than emotions.
If we limit emissions of greenhouse gases, we have a cleaner environment, whether or not icebergs keep melting. That's a plus we should all be willing to share in achieving.
I wrote the other day on another blog that monitoring climate research calls for "the most enlightened public relations project ever." I suggested that a website like Solveclimate.com might be the answer. I didn't know then about NOAA's "State of the Climate" site, though it may not be focused enough.
I appreciate, however, Bill Chameides making me aware of the NOAA site. That's the best we can do for all of us – make information available, think prudently and take steps to improve the quality of our environment, whatever Earth's long-term fate may be. – Doug Bedell
Comments
Recently
Categories
Archives
Blogroll