Posted on March 30, 2010
Filed Under Technology | Leave a Comment
This could be one of the most important weekends since Johannes Gutenberg announced the invention of moveable type 570 years ago. And, says Wikipedia, Gutenberg's breakthrough for learning the world over is "widely regarded (as) the most important event of the modern period."  The printing press greatly abetted, if not launched, the Renaissance, Reformation and the Scientific Revolution which, of course, gave rise to modern times.
Well, Apple Computer's iPad goes on sale Friday. Don't scoff when we compare the shiny tablet to Gutenberg's new printing technology. The more people learn about the iPad, the more excited they seem to become about it. At first as Steve Jobs announced the device in January, Daniel Lyons recalls in the cover story of this week's Newsweek, "it seemed like no big deal. It's a bigger version of the iPod Touch, right? Then I got a chance to use an iPad, and it hit me, I want one."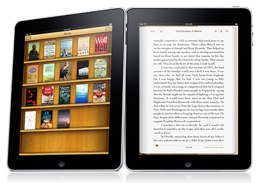 A lot of people who haven't tried an iPad yet seem to feel the same way. One estimate is that 200,000 of them will be sold this weekend. That's not only significant for Apple, but for literacy in our time. Why? Because ebooks, led possibly by the iPad, are likely to make electronic learning common, and perhaps more successful than paper-based instruction, in classrooms and households around the world. (Amazon bought Newsweek's back cover to promote its own Kindle ereader, probably in hopes of keeping abreast of Apple.)
You can not only read books but watch movies, play games, listen to music, send email and sort photographs on the battery-powered iPad. And it only needs to be in your lap, not on a desktop. (We haven't heard yet whether you'll be able to print from the touch keyboard, but we suspect so. If not now, soon.)
Think what the iPad and other tablet approaches to reading and learning mean. They bring together all the excitement that youngsters have been experiencing growing up with computers and the Internet, all the new windows they have on the world. And it's fun, exhilarating actually, to open and use them.
What might that do for further learning and creativity? Stick around a while, please do. This new era isn't to be missed.
"There's a wholesale transition building steam around the way content is distributed and then accessed by students and teachers, and there are multiple formats, multiple devices and multiple distribution channels," Rik Kranenburg, president of the higher education, professional, and international group at McGraw-Hill Education says in the April EContent magazine.
"The combination of print and digital offerings does very impressive things,"  Kranenburg adds  "It opens up new opportunities to make instruction and study more effective, more efficient and more personalized."
A lot of wood carvers and wielders of ink brushes were probably thinking much the same thing in Johannes Gutenberg's day. Questions remain about how ebooks will be gotten into the hands of people everywhere, but the first typeset books didn't circulate widely either.
Incidentally, Seton Hill University in Greensburg, Pa., is providing each of its full-time students with an iPad and a 13″ MacBook laptop –  screens in the wind? – Doug Bedell
Comments
Recently
Categories
Archives
Blogroll