Posted on April 20, 2010
Filed Under Technology | Leave a Comment
We wrote a while back about industrial robots that are gaining amazing dexterity in their arms and fingers. Now here's word  of robotic vehicles that can roam underwater powered entirely by the natural temperature differences at different ocean depths.
Couple mobile underwater robots with reach and grasp and you have new exploratory possibilities for sure.
NASA, the U.S. Navy and university researchers have demonstrated "the first robotic underwater vehicle to be powered entirely by the natural temperature differences found in varying depths of the ocean."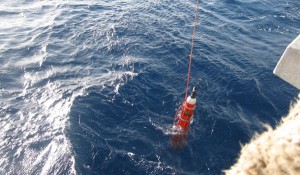 The new technology is functioning on an undersea robot called the Sounding Oceanographic Lagrangrian Observer Thermal RECharging (SOLO-TREC). It's envisioned to be useful for indefinite monitoring of the oceans for climate and marine animal studies as well as exploration and, of course, surveillance. (James Bond, get back into your wet suit!)
SOLO-TREC, in fact, sounds like the fabled perpetual motion machine, but it really isn't that. "People have long dreamed of a machine that produces more energy than it consumes and runs indefinitely," Jack Jones, a NASA Jet Propulsion Laboratory (JPL) principal engineer in Pasadena, Calif. and SOLO-TREC co-principal investigator, said in a statement.
"While not a true perpetual motion machine, since we actually consume some environmental energy, the prototype system demonstrated by JPL and its partners can continuously monitor the ocean without a limit on its lifetime imposed by energy supply," Jones said.
SOLO-TREC was recently tested for three months 100 miles southwest of Honolulu, Hawaii. It's a technological wonder that promises to give us far-ranging access to the oceans. – Doug Bedell
Comments
Recently
Categories
Archives
Blogroll