Posted on May 20, 2010
Filed Under Technology | Leave a Comment
Here's an exciting story of two carmakers collaborating for mutual advantage and serving U.S. energy goals in the bargain. Toyota and Tesla Motors are parterning to reopen the former General Motors/Toyota NUMMI plant at Fremont, CA, to build electric cars there – and potentially recall thousands of laid-off workers.
Tesla Motors, advises Wikipedia, "is a Silicon Valley-based company that engages in the design, manufacture, and sale of electric vehicles (EVs) and electric vehicle power train components. It is currently the only automaker building and selling highway-capable EVs in serial production (as opposed to prototype or evaluation fleet production) in North America or Europe." It produces at least 15, mostly custom-ordered cars a week.
Here's the essence of the Tesla-Toyota deal, as reported on the GreenBeat blog:
"1. The joint development  of a brand new,sub- $30,000 electric car, that will contain Tesla's unique powertrain design, with everything else built by Toyota;
"2. The purchase of the NUMMI plant, where Tesla plans to manufacture both its Model S sedan due out in 2012, a new $30,000 Tesla-designed vehicle, and the more affordable jointly designed "third-generation" vehicle;
"3. A $50 million investment from Toyota into Tesla when the company goes public, probably later this year."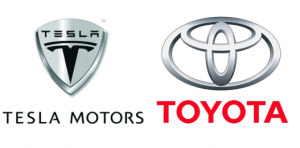 Another electric car initiative in the U.S. will enliven the marketing scene that's been developing around the forthcoming Chevy Volt and Nissan Leaf. 4,700 people worked at the NUMMI plant and it's possible that when Tesla's Toyota-assisted sub-$30,000 car rolls out even more than that number will be employed.
This is all great news involving intelligent energy policy and enlightened management thinking as well. A win-win partnership very much in the public interest. – Doug Bedell
*  *  *
This is a significant development. I lived only about 10 miles away from that plant and it was a big employer when I was young. I recall touring the plant with my Boy Scout troop.
I understand Tesla's existing models sell from about $50,000 to $100,000, so a sub-$30,000 vehicle is a big step forward. I've read reviews of their existing models and they have amazing acceleration.
This is a nice example of a Silicon Valley startup thinking outside the box and coming up with a way to ramp up production quickly. – Dennis Owen
Comments
Recently
Categories
Archives
Blogroll