Posted on June 27, 2010
Filed Under Business, Technology | Leave a Comment
Nobody said being a manager is easy. Actually, being a good manager, being relationally successful with colleagues, superiors, customers or communities, can be very demanding. Especially if some of those folks are difficult themselves, which they can be.
So how does a manager prepare himself, or steel herself, for difficult days? This is an especially pertinent question for technologists whose training has been in abstractions and demanding details, not so much in relationships.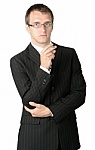 Steve Roesler, a management consultant, makes a notable contribution to understanding what it takes to manage well in his All Things Workplace blog. He writes of the "Five Minds of a Manager",  yes five. But if you can get these traits and techniques in hand, corporate challenges are likely to go better.
Steve is actually quoting principles he came upon in an article entitled, uncannily, "Five Minds of a Manager" by Johnathan Gosling and Henry Mitzberg. (What he hasn't done is provide a link to the piece. But Supermind Google advises that it was in The Harvard Business Review of November, 2003 – wisdom, of course, doesn't have to be current.)
The five principles, actually "mindsets,"  for relating well are what matter and here they are. They are days, we can recall, when we wish we had them all on tap and tuned tight:
1. Reflective mindset
"Stepping back and reflecting on experiences allow mistakes to be identified. Reflection may also lead to seeing things in a new ways, e.g., a product as a service or customers as partners (or vice versa)."
2. Analytical mindset
"Go beyond crunching the numbers. When a decision must be made, analyze the analysis of others to determine the biases they may have had and the data and assumptions used."
3. Wordly mindset
There are lots of worlds within the world and cultural awareness is crucial.
4. Collaborative mindset
Don't hole up in your office – get out and mingle with your staff and customers, and listen more than direct.
5. Action mindset
"Managers with action mindsets focus organizational energy on changing what needs to be changed while carefully maintaining what doesn't."
Yes, these are all important vantage points. But  we might suggest one overarching principle that's indispensable for successful managing – empathy, walking in someone else's shoes and identifying with what's firing them up. Be sure, in other words, to relate well to those shaping your managerial world. – Doug Bedell
Photo – FreeDigialPhotos.net
Comments
Recently
Categories
Archives
Blogroll