Posted on July 6, 2010
Filed Under Business | Leave a Comment
Engineering is pressurized work and not everything gets accomplished on time or according to schedule. When delays occur, it's important to be clear about why they did and to learn from them.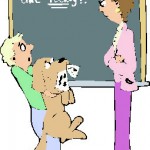 That necessary purpose can be obscured by defensive responses to missed deadlines. "Don't use excuses, supply reasons," is our capsulized guidance culled from a list of "10 excuses your boss doesn't want to hear," provided by Justin James on the  TechRepublic blog.  We would only add that bosses, too, need to be sensitive to what may have actually happened – to be willing to learn.
Here's Justin's list. We're capsulizing his explanations; he spells each of them out. Most come down to – pay heed first off:
1. I didn't understand the assignment – Things should be fully understood at the start.  If a boss doesn't have the greatest communication skills, more attentiveness to clarifying the project is required.
2. The deadline was impossible – Don't accept a ridiculous deadline. Talk it through with your boss beforehand.
3. A valuable resource wasn't available – If something is missing, that needs to be known at the start.
4. The requirements shifted – As new requirements come up, be mindful of them and their possible impact on the project. Make changes in deadlines as advisable.
5. I have personal issues – Who doesn't? Get help with them as necessary.
6. I don't have enough time – Manage your plate well, and surface time issues promptly.
7. I don't know what went wrong – Well, gee…
8. We ran into blockages – Sort them out promptly and effectively.
9. The only copy of the work got destroyed – Make backups hither and yon.
10. The dog ate my homework – Inexplicable events happen. Roll with them.
– Doug Bedell
Comments
Recently
Categories
Archives
Blogroll