Posted on July 14, 2010
Filed Under Business, Technology | Leave a Comment
Newsweek has done the U.S. a service by devoting its July 19 cover to "Creativity in America," a lengthy article sparked by the discovery that creativity in America is declining. By whose measure comes that ominous news?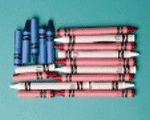 Well, there are IQ tests and there's a creativity test – the Torrance test (named after the late Prof. E. Paul Torrance), which has been around for 50 years. While IQ scores have been steadily rising, since 1990 Torrance scores have been steadily declining.
Newsweek reports that Kyung Hee Kim at the College of William & Mary discovered the creativity decline just this May in analyzing almost 300,000 Torrance scores of children and adults. "It's very clear, and the decrease is very significant," Kim says, adding that the decline is "most serious" among younger children, from kindergarten through sixth grade.
As Newsweek notes, such a decline could have dire consequences as the kids age. The situation should cause each of us to think about how creatively we've been living, and what we might do to boost our flashes of insight and brilliance.
This can be truly serious. Factors from excessive TV watching to neglecting to encourage creativity in schools are cited. "In China," by contrast, advises Newsweek, "there has been widespread education reform to extinguish the drill-and-kill teaching style. Instead, Chinese schools are also adopting a problem-based learning approach."
Jonathan Plucker, of Indiana University, was amazed in touring schools in Shanghai and Beijing to find a boy "who, for a class project, rigged a tracking device from his moped with parts from a cell phone."
When the faculty of a Chinese university asked Plucker to identify trends in American educatiion, "he described our focus on standardized curriculum, rote memorization, and nationalized testing. 'After my answer was translated, they just started laughing out loud,' Plucker says. "They said, 'You're racing toward our old model. But we're racing toward your (fancied) model, as fast as we can."
"Your model," to the extent it exists in American schools currently, is a project- and research-oriented one that can be included in existing curriculums if educators and school boards recognize that it needs to be. We all need to get serious about improving our creativity, now and for the long term.
We can start by simply logging how many good ideas we've had recently, and encouraging more of them to dawn by reading and looking around at what needs to be accomplished in the interest of ourselves and others. Thanks Newsweek! – Doug Bedell
Comments
Recently
Categories
Archives
Blogroll