Posted on July 18, 2010
Filed Under Business | 1 Comment
What about the continuing drain in American manufacturing jobs? What do we do about it? Why do anything, you say? We still have knowledge creation occurring in the U.S. and that's what counts.
Well think about it.  Andrew "Andy" Grove, co-founder and now a senior adviser to Intel, prompts such salutary thinking in an article – "How to Make an American Job" – in the July 5-11 Bloomberg Businessweek. (We get Bloomberg Businessweek, but we happened upon the Grove article first in surfing the web for technology stories and hitting on the MetalMiner blog. Which demonstrates the unpredictable currents bringing information to our eyeballs these days.)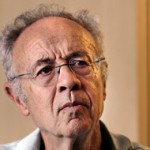 If we cheer aspiring entrepreneurs operating from garages and other start-up locales, but  then send the scale-up and production capacity to China or elsewhere  (as we've been doing), "What kind of a society are we going to have if it consists of highly paid people doing high-value-added work and masses of unemployed?" A really good and timely question.
China's Hon Hai Precision Industry Co. (also known as Foxconn) now employs more than 800,000 people, more, Grove notes, "than the combined worldwide head count of Apple, Dell, Microsft, Hewlett-Packard Co., Intel and Sony Corp."
Back in 1980, 10 years after it was capitalized for production, Intel had about 13,000 people making computer chips in the U.S. And a host of other companies were sprouting up, and employing Americans, in the Silicon Valley around Intel. But "as time passed," Grove recalls, "wages and health-care costs rose in the U.S., and China opened up. American companies discovered they could have their manufacturing and even their engineering done cheaper overseas." So, increasingly, they did. "Today," Grove points out, "manufacturing employment in the U.S. computer industry is about 166,000 – lower than it was before the first personal computer, the MITS Altair 2800, was assembled in 1975. Meanwhile, a very effective computer -manufacturing industry has emerged in Asia, employing about 1.5 million workers – factory employees, engineers and managers."
And that's not just happening in computers. We've been writing on Insights about electric cars. Well, their lithium-ion batteries are being made overseas. Not only that, those batteries were developed overseas. When, 30 years ago, the U.S. quit making consumer electronics devices, Grove advises, we lost our lead in batteries too. The scaling took place overseas and now it's doubtful that U.S. companies "will ever catch up" in battery technology.
When you let something like batteries or photovoltaic panels get away from you, you can lose whole job-creating manufacturing industries. Those guys in the next garages over may never be bright enough to catch up with that.
Bright people need to start thinking keenly about others, our own kids and aspiring workers. Where are they going to be employed a couple of decades from now? It's a worrisome outlook indeed.
Grove says we need "a job-centric economic theory – and job-centric political leadership to guide our plans and actions. We need specific actions, as well, like financial incentives "to rebuild our industrial commons." Grove, who grew up in Soviet-dominated Hungary and fled to the U.S. for its opportunities, suggests an "extra tax on the product of offshored labor. (If the result is a trade war, treat it like other wars – fight to win.)"
Yes, you probably sensed where this was heading – we've got to start thinking differently about concepts like fair and free trade and where they've been taking the economic prospects of growing numbers of Americans. We don't like "war" metaphors, we don't want to get nasty, just considerate of what it may take to have people thrive, as they once did, on production lines in the U.S., as well, now, as around the world. – Doug Bedell
Comments
Recently
Categories
Archives
Blogroll