Posted on July 30, 2010
Filed Under Business, Technology, The Writing Life | Leave a Comment
Permit us to introduce you to Ruth S. Day, a cognitive scientist at Duke University. Why? Because Dr. Day is doing intensive study of memory, and memory is large where everything begins, in technical writing as well as other fields, not to mention life itself.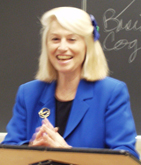 Dr. Day has been studying how professional dancers remember their routines. Have you ever thought about that? A modern dance company doesn't have classical terms for movements, like ballet companies do. So  some, like Pilobolus, make up names for the shapes they get their dancer's bodies into – like "shooting seagulls" or "fat gnomes."  Others, like The Merce Cunningham company, feel that labeling dance moves with words is limiting.
Memory itself is sort of a dance of associations. Pick your own associations.
"There's no right or wrong strategy," Day says, "but certain strategies work better in certain situations and the more memory tools a dancer has, the better. The end goal is not memory in and of itself, but to get past the learning and worrying about it – to do the movement well and enjoy it."
It all seems to come down to identification and intentionality – identifying what you want to accomplish via a technique or gimmick – anything that works for you – and being intentional about that process.
We're trying, for instance, to improve our quick recognition of jazz piano passages. And we're finding that looking at the notes as parts of chords is helpful – that's  a structural approach, rather than a strictly visual one. But what the heck, since it seems to have potential, we'll try to develop it.
"Whatever works for you," seems to be a decent memory slogan. The need is to get serious about remembering, and pick your own cues.
Dr. Day has more insights into this subject – What subject was that ? Oh yes, memory – at physorg.com and some further encouragement. We're glad we've met her via the web, and suspect you will be as well. – Doug Bedell
Comments
Recently
Categories
Archives
Blogroll