Posted on August 4, 2010
Filed Under Technology | Leave a Comment
We keep hearing about how various solar power approaches are key to our energy and environmental future, yet none seem to be applied all that decisively. Here's a newly announced approach that should either be debunked or applied resolutely.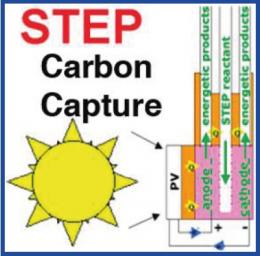 Researchers who have developed the STEP (Solar Thermal Electrochemical Photo) process say it could decrease carbon dioxide in the atmosphere to pre-industrial levels in 10 years. That is, we could have the atmosphere we had before factories, automobiles and trucks started appearing on earth.
Why wouldn't that be considered a goal worthy of priority sponsorship, providing it's truly feasible?  In one continuing STEP activity, we could put the debate over a healthy atmosphere aside; science could triumph.
What is it about announcements that seem so promising, and then aren't heard about again, at least on a scale sufficient to make a real difference?
In this case, scientists at George Washington University and Howard University, both in Washington DC, and strategic, even, to government, say that "by using the sun's visible light and heat to power an electrolysis cell that captures and converts carbon dioxide from the air, a new technique could impressively clean the atmosphere and produce fuel feedstock at the same time."
The new process is described in a paper  just published in The Journal of Physical Chemistry Letters. "The significance of the study is twofold," Stuart Licht, a chemistry professor at George Washington University, told PhysOrg.com. "Carbon dioxide, a non-reactive and normally difficult-to-remove compound, can be easily captured with solar energy using our new low-energy, lithium carbonate electrolysis STEP process, and with scale-up, sufficient resources exist for STEP to decrease carbon dioxide levels in the atmosphere to pre-industrial levels within 10 years."
So if this is indeed feasible, why don't we get on with it? Or is our society in a continuing cycle of discussion and debate that keeps promising approaches to environmental goals from being applied not only successfully, but decisively? One would hope not. – Doug Bedell
(Image copyright: Stuart Licht, et al. ©2010 American Chemical Society)
Comments
Recently
Categories
Archives
Blogroll