Posted on August 12, 2010
Filed Under Technology | Leave a Comment
We last wrote about acting decisively either to debunk or apply new technologties, not just announce them and see them seemingly ignored.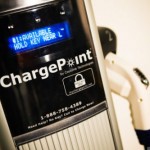 Now here's a city that's acting decisively in, you might expect it, the Silicon Valley. San Jose, CA, in 2007 announced its "Green Vision" – a 15-year plan that includes reducing per capita energy use by half, becoming a zero waste city, recycling and reusing 100 percent of the city's water, and moving to 100 percent renewable energy. Right on!
San Jose's resolves are especially pertinent because we've also been writing about the progress toward launching electric cars.  A detriment has been the lack of charging stations along highways and byways. But San Jose is doing someting about that.
The California city recently installed the first of 1,600 planned charging stations in the Bay Area as part of the ChargePoint America program to encourage the use of electric cars – by those who can currently afford the Chevy Volt, the Nissan Leaf or the Ford Focus EV, anyway.
San Jose is aiming to break the chicken-or-egg dilemma over which comes first toward reaching a green future.  Encouraged by San Jose's resolve, Couloumb Technologies, the maker of that city's first charging station, is expecting to have 4,600 of them around the country by October, 2011, in areas including Austin, Detroit, Los Angeles, New York, Washington, D.C. and Orlando.
San Jose's first charging station is inside a parking garage, appropriately enough – except, of course, that you'd first have to pay a parking fee to reach it. But who can quibble over a city as resolutely aiming for a greener future as San Jose appears to be?
TechRepublic is the source of the highly informative, amply illustrated web story that's prompting these acclamations for San Jose and electric car makers. And we ought to give some further credit where credit is due on the road to the future. Couloumb's $37 million Charge Point America program is funded in part by $15 million from the U.S. Department of Energy under the American Recovery and Reinvestment Act.
Lest we get too enthused about the appearance of these first charging stations, TechRepublic points out that the big deterrent to the adoption of electric cars (other than price)  is the need for "bigger, better battery technology." We'll try to follow that too, for it appears that we're actually  heading toward a less gasoline-reliant future.  – Doug Bedell
Comments
Recently
Categories
Archives
Blogroll