Posted on August 17, 2010
Filed Under The Writing Life | Leave a Comment
She is a monument to technological genius and chutzpah as well. RMS Titanic has been resting, half buried, on the ocean bottom for 98 years now. Scientists are becoming concerned about how much longer she can withstand the corrosive, or naturalizing, forces that are turning her into a mired denizen of the sea.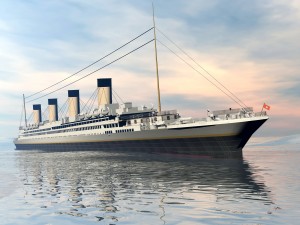 On August 22, RMS Titanic, Inc., Woods Hole Oceanographic Institution and a host of other partners will conduct a new dive to the Titanic, the first in six years, to ascertain further how she has been "aging" on the seabed. This visit will be uniquely available to the public, photographed with the latest in undersea 3DHD and 2D cameras. A 3D rendering of the wreck will be created.
We came upon this fabulous mission by stopping at the  Creativity-online website. You need to be a paid subscriber to see all that's available on the Titanic there, but we got some tantalizing glimpses by nosing around before the "paid?" screen took over. Maybe, you, too, will be so fortunate.
We can understand why this work needs support; much has been learned to benefit oceanography and nautical history and engineering from past visits to the site 2.5 miles below the Atlantic's surface. See what you can find here, and join Creativity for more, if it suits your interests.
We'll soon be hearing about the Titanic Centennial, and this dive, it appears, will be its herald. There will be coverage on YouTube and Facebook, and who knows what other forms of modern media. Marconi wireless radio brought the news that the unthinkable was happening in 1912. – Doug Bedell
Comments
Recently
Categories
Archives
Blogroll