Posted on August 26, 2010
Filed Under Technology | Leave a Comment
Here's a Web source for getting technological inspiration going – Make magazine, tagline: "Technology on Your Time."
We happened upon the site's feature on how kids learn by taking things apart, and there was instant recognition of what some kids we know have been up to. Also, why TechRepublic's "teardown" feature is so popular.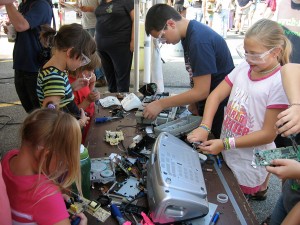 We seem to have an innate fascination for seeing how things fit together, or go together. "Sidewalk superintendents" at construction projects are another example of this proclivity.
Not that we're suggesting that taking things apart that really shouldn't be taken apart is a good idea (unless you're adept at putting them back together), but it can be a source of inspiration. And, if the target object – like those at Make's Robotics Redefined both at Detroit's recent Maker Faire is dispensable anyway, you have a way to keep kids occupied for hours, while revving up their ingenuity circuits.
They took an old turntable, for instance, and turned it into  a geared, rotating candle holder. "What would you do with that?" you ask. That's not the point. But the answer might well be, "Maybe something."
There's been a fair amount of attention lately to  America's innovation standing (is it threatened?), including in Bloomberg Businessweek. Find enough mechanisms for kids to take apart and recombine into something new, however, and we're likely to be reassured.
Anyhow, Make magazine seems worth following. We might be inspired by its own "insides."  And that, of course, is the editors' intention. – Doug Bedell
Comments
Recently
Categories
Archives
Blogroll