Posted on September 16, 2010
Filed Under Business, Technology | Leave a Comment
This isn't an electric car blog, but we've been following developments toward diversified transportation because we truly need to shake up our transportation system. Today Ford announced an electric Focus, a car with special appeal to us, because we own a gasoline-powered model and love it.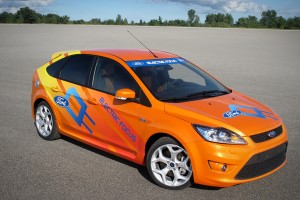 The thing is, though, Ford announced the car in partnership with the Texas utility, Oncor. And that immediately illustrated a limitation of all-electric vehicles. Iris Kuo, the GreenBeat reviewer, reached to turn on the air conditioning and Ford's representative in the car asked her to turn it back off. Reason: the A/C drains the battery too much. But they couldn't figure out how to shut it off  "thanks to a confusing control panel."
So there goes the Texas market, where temperatures are high and distances long. Ah well, it's no doubt a lovely car for other, more temperate locales. (It should be available next year.)
Oncor has installed 1.2 million smart meters, which will help consumers decide when rates are lowest for charging electric vehicles. Texas at least has lots of energy reserves.
Buyers of the first all-electric cars are going to be a little like modern-day pioneers, figuring out what the best blend of charging and mileage might be. Sort of like how far horses could pull before they got too hungry and fatigued. There's also a need to educate emergency responders about electrics, who could be endangered by the high battery voltage at the scene of an accident.
But this is important stuff, because our transportation system truly needs a broader mix of motive power. – Doug Bedell
Comments
Recently
Categories
Archives
Blogroll