Posted on September 26, 2010
Filed Under Technology | Leave a Comment
We were struck by a new feature on the horizon as we spent our annual weekend at Lewes, Delaware, this month. There's now a 400-foot-tall wind turbine across the  harbor on the Lewes campus of the University of Delaware. It rises above the tree line, its blades turning lazily in the seaside breeze,  a source of alternative energy.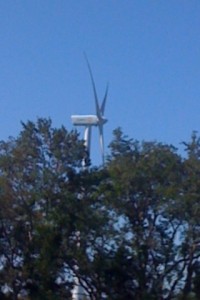 The Lewes wind turbine, which became operational on June 11, generates two megawatts of electricity. That's enough to power 500 homes or the entire Lewes campus, with enough left over for occasional export to the regional grid. I'm used to roaring turbine- generators and have wondered how a wind turbine's slowly turning blades (144-feet-long in this instance) accomplish the generation of this much power.
A website provided by Gamesa Technology Corp., the turbine's manufacturer, explains that there's a gearbox that steps up the rotation to match that of turbine-generators on the grid.  The turbine's nose can also be rotated to keep it pointed into the wind. Should there be too much wind, it can be shut down.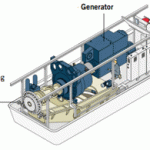 Gamesa is a Spanish company, but the Lewes turbine  was manufactured at Gamesa's plant at Ebensburg, Pa.  It's an experience, we discovered in another context, to  drive past a tractor-trailer towing a turbine blade to a  tower's construction site. "What's that?", you wonder, if you don't already know.
Currently, I learned from Wikipedia, the largest-capacity wind turbine, the EnerconE-126, has a rated capacity of 7.58 megawatts and an overall height of 650 feet. But "at least four companies – American Superconductor, Wind Power Ltd., Clipper Windpower and Sway – are working on the development of a 10 megawatt turbine."
Blow on, ye winds of energy progress! – Doug Bedell
Comments
Recently
Categories
Archives
Blogroll