Posted on October 12, 2010
Filed Under Technology | Leave a Comment
Oh, boy, it's been a wondrous evening on the Internet. First, Google is developing driverless cars. And now we find that Airbus is anticipating building invisible airplanes. The aircraft manufacturer, Fox News reports, envisions airliners with transparent fuselages. That is, they would become transparent when the pilot pushes a button "to send an electrical pulse through a high-tech ceramic skin – making the main body of the plane see-through."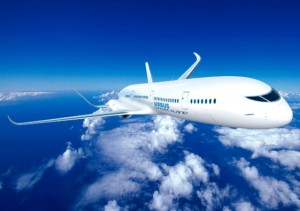 "The extraordinary design would allow travelers to look down on cities and landscapes thousands of feet below or gaze up at the heavens, giving them the sensation of floating unassisted through they sky."
Well, I don't know. It might require a further advance in human evolution for passengers to maintain their own equilibrium while flying in a transparent capsule. But this is the kind of imaginative thinking that moves us all ahead.
The "transparency" concept is included in a book Airbus prepared for the Farnborough Air Show in England this summer. Other advances its engineers are envisioning include "an aircraft skin that can repair itself in the event of cracks or breaches and streamline engines that are embedded in the plane's fuselage rather than attached to its wings."
"We told our engineers to give their imaginations free rein. What emerged were completely realistic visions of flight in the year 2050," Axel Krein, Airbus' head of research and technology told the German news magazine Der Spiegel.
Maybe in 40 years all this will be accomplished. But, for now, we've got to get to the TV to watch the rescue of the first of the trapped Chilean miners. All that has gone into lowering that narrow, mesh capsule is wondrous enough for now. May it work flawlessly 33 times and more, to bring up the rescuers who are  assisting those heroic miners. – Doug Bedell
Comments
Recently
Categories
Archives
Blogroll