Posted on October 12, 2010
Filed Under Technology | Leave a Comment
It won't be available anytime soon, but in the foreseeable future you might be a passenger in a Google-driven car. That's right – Google engineers announced over the weekend that they have already logged 140,000 miles on seven test cars that can drive themselves, apparently safely and soundly.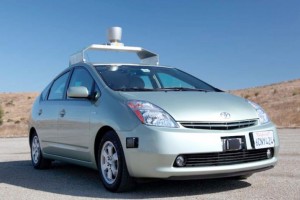 The auto-cars – six Toyota Prius hybrids and  an Audi II –  feature a gizmo on the roof – a spinning, scanning laser – that relays information from a 200-foot diameter around the car, conveying who's ahead, who's behind, who's on each side and what all those signs and lights are indicating. There are embedded cameras and sensors, too. These cars wouldn't be cheap, at least not for a while.
Google cars still have human drivers – humans will doubtless continue to be responsible under the law for what their automobiles do – but if one wants to use a cell phone, check a map or relate to the kids, fine, the "super cruise control" will take over.
The Google-verse is getting ever more encompassing. Google is understandably proud of its vehicular breakthrough, which stems from Google Maps and Streetview, which have practically every roadside feature plotted already. Automated vehicles are likely to have lower emissions, burn less fossil fuel and move congestion along more smoothly and be involved in fewer accidents. They will be able to "swarm" more closely together if, on some future day, drivers are advised to run them that way  The Google cars have actually made their way safely along San Francisco's hilly streets, with the police department being informed beforehand of their routes.
Wondrous times these are, right? America's competitiveness rests heavily with those California guys – at Google and the other Silicon Valley play stations – who are so ingenious technically and having so much fun in the process. – Doug Bedell
Comments
Recently
Categories
Archives
Blogroll