Posted on December 22, 2010
Filed Under Technology, The Writing Life | Leave a Comment
Here's a technology brushup for this holiday time – clarification of the confusion (in case you've shared it) of who invented the first electrically lighted Christmas tree.
The gentleman was Edward H. Johnson and he lit his first tree in 1882, three years after his associate, Thomas A. Edison, invented the light bulb.
(Edison himself  created the first strand of electric lights and strung them around the outside of his Menlo Park laboratory in 1880.)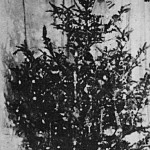 Ralph Morris is sometimes credited with the first string of Christmas tree lights, but that's apparently because his son, Leavitt, thought his dad was the inventor and published a 1952 article to that effect in The Christian Science Monitor.  (The Morris family tree is shown here. We couldn't find a photo of the Johnson tree.)
Edward Johnson seems to have had a display sensibility, as well as electrical prowess. His first lighted tree was described as "brilliantly lighted with many colored globes about as large as an English walnut and was turning some six times a minute on a little pine box. There were eighty lights in all encased in these dainty glass eggs, and about equally divided between white, red and blue. As the tree turned, the colors alternated, all the lamps going out and being relit at every revolution. The result was a continuous twinkling of dancing colors, red, white, blue, white, red, blue—all evening."
Most Christmas trees today don't create that much brightness!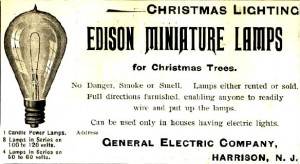 In any event, the important thing is that, at the darkest time of the year, both technically created and spiritually generated brightness abounds. We wish you all the blessings of this joyous season and  the turning of the year! – Doug Bedell
Comments
Recently
Categories
Archives
Blogroll