Posted on January 23, 2011
Filed Under Technology | Leave a Comment
One of the great features of the Internet is the ability it provides to attend entire presentations – for which the attendees themselves paid travel, event and lodging fees – at your desk for free. Here's one we especially value, just posted by Bill DeRouchey of Ziba Design.
It's called Learning Interaction Design from Everyday Articles and includes 71 slides intended to drive home DeRouchey's message of creative simplicity for all the buttons, panels and pads we now push, view and, hopefully, are enabled to use with an absolute minimum of confusion or hesitation.
The point in providing a user interface is just that – to avoid hesitation. If you have to pause and scratch your head – as with the microphone icon on a cell phone – the display, DeRouchey feels, can be improved.
"Attention," as he puts it, "fuels craft." Some designer wasn't paying enough attention on the game controller that DeRouchey includes in his slides. And games are predominately for kids, or at least younger people, aren't they?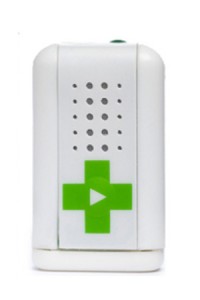 The thing about Internet presentations is that they have the same requirement as actual ones – attention must be paid. You need to set aside enough time to view a slide show whole and consider it thoroughly, as you would from your seat at an actual program. But the value is great, if only as a refresher of design principles you already practice, or may be slipping away from.
Shown here is an especially appropriate minimalist design – the interface on a "Press Don't Panic" device that can be worn or carried by people who may be subject to medical emergencies. It's intended to save their lives when used by others. – Doug Bedell
Comments
Recently
Categories
Archives
Blogroll