Posted on January 28, 2011
Filed Under Technology | Leave a Comment
We don't normally write about computer-based technology, as such, because lots of other blogs do. We've left the digital dimension of technology to others, until now. That's because a highly stimulating and very pertinent debate is raging on the nature of communication these days. Its essence: Is keyboard communication eclipsing, indeed blighting, human contact and relationships?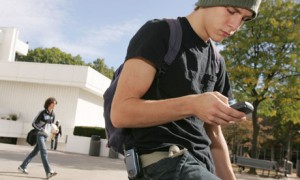 We don't think so, but digital relations are certainly presenting challenges for educators, parents and anyone else concerned with maintaining balance in our lives. Digital communication – Twitter, Facebook, blogs, whatever – allows far greater reach, influence and formation of friendships than we could have dreamed. It's just that they're not physical connections, unless we travel to meet with some of our Internet-based acquaintances. While that's unlikely, it doesn't negate our electronic connections. (Kids aren't spending all their time on cell phones and computers anyway. We just attended our grandson's band concert and there were 70 kids in the fourth grade band, including 19 saxophonists and 17 percussionists!)
The fact is, as Brian Solis writes (in a link provided by Adam Singer on his Future Buzz blog), "The socialization of content creation, consumption and participation, is hastening the metamorphosis that transforms everyday people into participants of a powerful and valuable media literate society."
In other words, the context of communication is changing, and becoming far more inclusive than it ever was when printing presses and radio and TV towers spread the word. That was largely a one-way system; today's is decidedly two-way.
But do all those young people pecking at their iPhones and laptops ever talk to anyone? Certainly they do. As one of the responses to a story in The Guardian on a "tide of cyber-scepticism sweeping the U.S." puts it: "What is this past world in which we all talked to strangers in cafes? Sitting in a cafe alone was a miserable experience."
Technology's new reach is going to have consequences that we can't fully envision. Witness the turmoil in Egypt and elsewhere in the Middle East that's been generated partly by the release of the WikiLeaks documents in the U.S. Egypt's long-entrenched government "turned off" the Internet in attempting to counter street demonstrations for assertedly democratic reforms. That's a form of communication too, not to be recommended, perhaps, but a warning of how all governments need to be effectively relational to their people.
Sure, we can all spend too much time in front of computer screens, and we need to watch that. But Internet relations are far more preferable than all the time we used to spend watching TV. We need informational balance in our lives, and kids need guidance on why that's important. But in our new, computer-assisted ways we've all gained the capability to become far more relational with people at a distance, and should be using it to our – and the world's – advantgage. – Doug Bedell
Comments
Recently
Categories
Archives
Blogroll