Posted on February 8, 2011
Filed Under Business, Technology, The Writing Life | Leave a Comment
You've got to hand it to Amazon.com, one of the most relational – if not the most relational – of the high-tech web companies. They pioneered in reader reviews and comments, allow you to buy books at lower prices from associated bookstores and have a great Kindle electronic book reader. Now they're adding page numbers to the pages of Kindle books that will match those of the paper editions.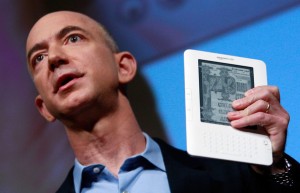 Why? "Our customers have told us they want real page numbers that match the page numbers in print books so they can easily reference and cite passages, and read along side others in a book club or class," Amazon said in a statement.

So it's not just about selling books, but honoring the fraternity of reading. As Physorg.com put it in noting the new Amazon service, "Kindle puts readers and friends on same page."
There have been a lot of posts on Amazon's Kindle forums about whether actual page numbers are better than the "locations" format Amazon has been using, with page numbers winning. And Jeff Bezos, Amazon's founder, listens. So page numbers are being added.
We don't know how many of the other web book readers have page numbers matching the print editions, but we're reporting here on a responsive relational approach. Amazon is tops at that.
Paying heed to customers is such an important aspect of being in the technology business, or any business for that matter. You can manipulate all the 0's and 1's, all the blueprints and drawings, all the manuals and instruction sheets you want. But if you forget it's all being done to wow customers, it doesn't matter. That's on Page No. 1. – Doug Bedell
Comments
Recently
Categories
Archives
Blogroll