Posted on March 17, 2011
Filed Under Technology | Leave a Comment
U.S. nuclear power plants are probably going to have to become more relational again, much as they did after the 1979 accident at Three Mile Island Unit 2. They maintained visitors centers then and some, like TMI itself, gave walking tours of the plants.
But TMI's visitors center has been closed for several years now and tours of the two units there – one shuttered and the other operating well – are no longer available. That's at least partly because of concerns over terrorism, but it may also be a way of economizing somewhat on the expense of running the plants.
Whichever, it's been unfortunate that U.S. plant operators have been hunkering down again. Now, from Japan, comes upsetting evidence that when something goes wrong at a nuclear plant – and Fukushima features U.S.-designed reactors – it can go terribly wrong. The plants haven't been designed to withstand everything that can possibly happen, like a roaring tsunami topping a protective seawall.
Not only has the TMI visitors center been closed, but the site is being operated by its current owner, Exelon, as part of a regional array of plants in Eastern and Central Pennsylvania. Should an emergency occur at TMI, the Harrisburg/Middletown-area media would need to travel 65 miles or so to Exelon's media center to cover it. There is only one officially designated communicator based at TMI now. In the wake of the Unit 2 accident there were as many as 35, most of them tour guides, community relations and energy education people. (It was a great group.)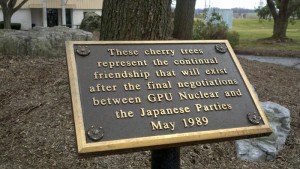 Indeed, the dire evidence from Japan is likely to set nuclear power expansion in the U.S. back for another generation or more. People can't be expected to be comfortable with plants that can go so badly awry, however unlikely that may be at any given site. The idea of a nuclear plant's buildings exploding and its fuel storage pools catching fire, along with damage occurring in its reactor vessels themselves is truly unsettling. (Japan was the only nuclear power nation to accept General Public Utilities' offer to work on, and learn from, the TMI-2 cleanup – Japanese engineers were there for nearly a decade.)
There's also the concern that existed during the TMI-2 accident, as well, over the adequacy of information being released by the plant's operator. Listening to CNN the past couple of days, doubts expressed by its reporters on that score became a refrain. The Japanese apparently have not adopted the Joint Information System approach to covering nuclear emergencies that was one of the main U.S. enhancements after TMI-2. Instead, Fukushima's operator, Tokyo Electric Power Co., has seemed pretty much on its own in releasing information, with less than stellar results in terms of credibility. (Even though earthquake damage around the plant represented a major complication.)
When will they ever learn… a strong, believable communication function needs to be part of nuclear plant operations everywhere. Maybe we'll be seeing more of that in the U.S. again, but it likely won't make much difference, now that people have seen what a severe nuclear accident can be like in a partner democracy like Japan. – Doug Bedell
(What my colleague Doug doesn't tell you above, though you may be able to infer it, is that he was one of the key individuals TMI's operator (then GPU Nuclear) hired after the Unit 2 accident to overhaul the company's communications processes. His background in journalism meant he knew what it took to produce clear, concise, and unvarnished communications, and over time the GPUN Communications Department became the nuclear industry's gold standard for dialogue with the public.
Nuclear utilities have largely dismantled their once-proactive communications departments, but events in Japan show us once again how penny-wise and pound- foolish that is. How sad that every few decades the industry has to learn how to communicate all over again. Stay tuned… Doug is likely to have more nuclear power communications insights in the months ahead. – Dennis Owen)

Comments
Recently
Categories
Archives
Blogroll