Posted on March 31, 2011
Filed Under Technology | Leave a Comment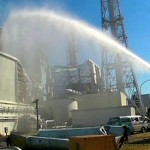 The crisis at the Fukushima Diiachi nuclear power plant is bringing renewed attention to the disciplines of risk and crisis communication. Neither can be practiced well without being understood as disciplines in themselves – apart from, but in support of, the technical response to an emergency that threatens public safety.
Doug Bedell, our Encore associate, has had firsthand experience with nuclear power risk communication. Doug and I met at Three Mile Island Unit 2 after the 1979 accident there. He was TMI's new communication manager and I was a recovery engineer at Unit 2. His office was downstairs from mine at the TMI-2 Admin Building and we'd consult regularly on matters related to the safety of the plant and preparations for defueling the damaged reactor.
Doug is now a Central Pennsylvania blogger, helping not only with Encore Insights, but contributing daily to Flack Me, a blog on public relations maintained by TalentZoo.com in Atlanta, Ga. A former newspaperman, he's recalled the lessons of his TMI communications experience in this Flack Me post, "Communication Planning, Staffing Key to Crisis Management." – Dennis Owen
Comments
Recently
Categories
Archives
Blogroll