Posted on April 12, 2011
Filed Under Uncategorized | 1 Comment
A further word on communication as an element in the Fukushima accident and as a factor in nuclear power's prospects overall: Tokyo Electric Power Co. has been apologizing for communication lapses in the Japanese crisis and U.S. nuclear power officials are conceding that the industry has "a considerable communications challenge…as we move forward."
"We're going to undertake it," said Steve Kerekes, a spokesman for the Nuclear Energy Institute in the U.S., "Exactly how we're going to do that, we're still getting our heads around that."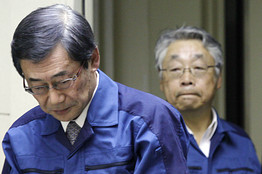 It all sounds so familiar. Thirty-two years ago in the aftermath of the accident at Three Mile Island Unit 2, communication was a major focus, at least by the plant's owner at the time, General Public Utilities Corp. (GPU).
Under duress, GPU belatedly understood that communication needs to be practiced as a discipline, every bit as much as nuclear technology itself. Some other nuclear power companies seemed to understand that at the time; others paid little heed to what was happening at TMI. It wasn't "their" accident, after all.

Under government pressure, the U.S. industry set up an emergency response system including Joint Information Centers for the coordinated release of information during a nuclear plant emergency. That's progress, but it doesn't really acknowledge the day-to-day nature of nuclear communication as a discipline all its own. If you're prepared to explain yourself well on any given day, you're closer to credibility than if you have to start acting relationally under stress.
Post-accident TMI equipped itself with a communications group that included media relations, public affairs and energy education people. They developed an emergency communication plan under which a communication staffer went to the control room to gather information for release to the public, and another duty person was reliably on hand to start answering inquiries from the news media. That was all at the scene – not 65 miles away – the location of TMI's current media center under the regional approach being taken by Exelon, the plant's new owner. TMI now has only one communication staffer at the plant.
A communication person at the control room has one responsibility – to gather responsive information – and the operators have another – to cope with the emergency that's generating a need for information in the first place. The two disciplines are separate and distinct, though they obviously intersect. But there need to be staff people on hand to serve each of them well.
Communication can't be trifled with, or caught up with "later". It's a present, inescapable need when an emergency occurs, and the beginning of whatever challenges the nuclear power industry finds itself dealing with as a result of any given crisis.
Communication staffs at nuclear plants are as essential as engineering or radiological groups, though they aren't likely to be seen that way. TMI's visitor center is now closed; "terrorism" seems the concern of the day. Yet without sufficient communications capacity at the plants to report promptly on any upsets and to relate well to neighboring public officials, the media and the plant's own employees day-to-day, the lessons of TMI, Chernobyl and now, Fukushima, haven't really been learned. – Doug Bedell
Comments
Recently
Categories
Archives
Blogroll