Posted on April 19, 2011
Filed Under Business, Technology | Leave a Comment
Gee, it must be tough being an angel investor in Silicon Valley, especially when things get rolling out there, as they are now.
You're not assured that your money is appreciated. You might even be turned away, or have to cope with a "class system," reports Monica Langley in The Wall Street Journal. The bigger guys, billionaires, may be shutting out smaller ones, mere millionaires.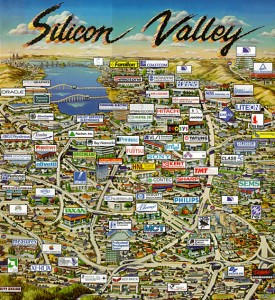 The really good news is that this high tech boom in the West may be more sustainable than the one ended in 2000, when a bubble broke, leaving a lot of investors in the same state. "There are a bunch of rich people and firms subsidizing tech entrepreneurs, but this time the entrepreneurs are better," The Journal quotes David Lee, a managing partner of SV Angel as saying. "These companies have millions of engaged users or actual profits. It's not just sloppy money coming to the table."
Twitter has a $3.7 billion valuation, but Facebook, with more than 500 million users, is valued by Wall Street at $50 billion, and actually has been getting more visits than Google. Poor Google. Groupon, the daily discounts site, not long ago turned down a $6 billion offer from Google, reporedly over anti-trust concerns, and now Google is launching Google Offers to compete with Groupon. (Get the feeling we're expected to spend most of our time shopping on the Web?)
The thing about all that money flowing West is, couldn't there be a way to spread it more evenly around the country, fostering innovation everywhere? Yet the capital requires support communities, or rather, is drawn to them. And Silicon Valley has a virtually unrivaled infrastructure for innovation. With sunshine all year, and San Francisco just down the road, there's energy to power all sorts of enterprises.
Let's hope that this time it continues to be focused on sustainability, not silicon dreams. – Doug Bedell
Comments
Recently
Categories
Archives
Blogroll