Posted on April 28, 2011
Filed Under Uncategorized | Leave a Comment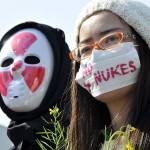 There is something about nuclear power emergency communication that seems extra daunting for utilities. Tokyo Electric Power Co., our colleague, Doug Bedell, notes, just turned its role as spokesperson for the Fukushima plant over to the Japanese government. That's what happened at TMI-2 in 1979, when Harold Denton, of the NRC, took over from Metropolitan Edison Co. It took longer at Fukushima, but the utility couldn't hold on to its lead communication role there either.
Comments
Recently
Categories
Archives
Blogroll