Posted on May 1, 2011
Filed Under Business | Leave a Comment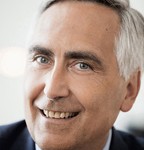 Businessweek provides an example of why focus and inspired priorities are so important to building, or rebuilding, a business. Siemens' return to prominence after a bribery scandal more than three years ago is a tribute to its new President and CEO, Peter Löscher, who, the magazine advises, put first things first and is keeping them there.
Vision, values and the processes to insure they are taken seriously are crucial to corporate renewal. "Being good today means you have to be better tomorrow, and even better the day after tomorrow," Löscher says. "The biggest risk is complacency."
Evidently, complacency almost brought Siemens down. The company was run as a collection of corporate fiefdoms with little accountability (values) by divisional managers. Now, under a new management roster, it's been restructured partly around "green" businesses (vision) .
As the bribery scandal unfolded, Siemens Chairman Gerhard Cromme reached across the Atlantic "to tap the first outsider to lead Siemens in its history," Businessweek notes. Löscher, an Austrian, had gained highly pertinent experience heading General Electric and Merck.
The Businessweek piece doesn't explain in any detail how Löscher implanted a new culture at Siemens, but he clearly has. Where some executives might swing to green projects as a fad or window dressing, Löescher's team is making them pay continuing, growing returns. They've closed down telecommunications and information technology businesses and swung behind trend-confirming "green" ones. Today, a sizable part of Siemens "sells sustainability-focused customers everything from light bulbs to high-speed trains to factory control systems," Businessweek reports.
"The Munich-based company today generates more than $38 billion in sales from wind power, solar energy, and energy-conserving electricity grids. Siemens also claims the lead in offshore wind turbines, a market hat has doubled in size in just the past two years. And about one quarter of its roughly 400,000 employees today are what Siemens calls green-collar workers, those who produce or market its portfolion of resource-efficient products."
Having the smarts to figure out what's most important in world markets – the "mega-trends" Lõscher refers to in the Businessweek piece – and to get behind them in a visionary manner is key to successful management. But managers also need to be focused on disciplined, upright methods, the values piece. When you put them together – vision and values – you get a company that's been truly renewed. Siemens' stock, Businessweek notes, "has surged 49 percent in a year, almost twice as much as GE's gain." – Doug Bedell
Comments
Recently
Categories
Archives
Blogroll