Posted on May 26, 2011
Filed Under Government, Technology | Leave a Comment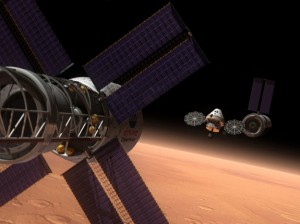 With the space shuttle flights winding down, we've been wondering where NASA will be heading next. The answer is, first to an asteroid by 2025, then Mars, where they hope to arrive by the 2030s. The space agency won't be building a brand new spaceship to get there. Instead, it will be modifying the Orion spacecraft that's been part of the Constellation program.
Meanwhile, there will be unnmaned exploratory flights, like the Mars Science Laboratory, scheduled for launching this fall, and the Mars Atmosphere and Volatile EvolutionN (MAVEN) mission planned for late 2013.
NASA's website is a fascinating place to roam all by itself. It has details of all that the space agency is planning to do, and the assistance in terms of engineering and science education needed to accomplish its space goals.
President Obama recalibrated NASA's goals last year, with the cancellation of the Constellation program and the setting of the new asteroid and Mars goals.

Construction of a new heavy lift rocket for deep space exploration is expected to begin by 2015, two years earlier than had been planned for Constellation.
With the President encouraging Americans to think and plan creatively around new technology-based, job-creating endeavors, it's important to have NASA remain as one of the prime movers. So much in the way of new materials, insights and skills has already emerged from its orbital missions, the Apollo moon flights and landings, and the deeper unmanned missions.
"We are committed to human exploration beyond low-Earth orbit and look forward to to developing the next generation of systems to take us there," says NASA's administrator, Charles Bolden. That's reassuring news indeed, as we await Endeavour's return next week – Doug Bedell.
Comments
Recently
Categories
Archives
Blogroll