Posted on June 8, 2011
Filed Under Business, Government, Technology | Leave a Comment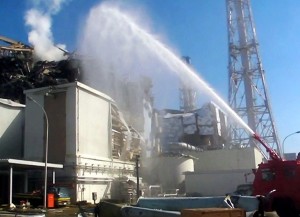 Michael Coston has eclectic interests, so on his Avian Flu Diary he writes about the continuing mishandling of the communication aspects of Japan's Fukushima nuclear plant accident. "When, oh when, will they ever learn?" one is prompted to ask. The question seems to hold both for the Tokyo Electric Power Co. (TEPCO), the plant's operator, and Japan's Nuclear and Industrial Safety Agency (NISA).
The earthquake-initiated accident was much worse than first reported, with three of the six reactors on the Fukushima Daiichi site experiencing meltdowns, and two of them possibly being melt throughs, with nuclear fuel actually "melted through the walls or floors of (the) reactor vessel."
Yet the accident's severity "was held at a 5 for a full month (the same as Three Mile Island), before being raised to a Chernobyl-comparable level 7 on April 11th," Coston notes.

The amount of radiation released from the site has now been more than doubled from initial estimates and environmental contamination around the plant is likely worse than feared.
"These belated and incrementally worsening status reports from plant operator TEPCO and Japan's Nuclear Safety Commission," Coston adds, "probably won't do a lot to inspire confidence in their future pronouncements."
Precisely. Credibility was an early casualty at Fukushima and, like the announced condition of the site, its standing continues to worsen. Who would want to forego such a vital aspect of reputation and reliability? Yet, within without effective crisis communication disciplines in place from the start, it's so easy for credibility to slip away.
We need to acknowledge the "stoic and understated nature" of the Japanese response to the crisis as a distinguishing aspect of the country's national character; Japan isn't the U.S. And heroic actions continue to be taken in efforts to secure the stricken plants. That's true enough, a reality of the Fukushima setting.
Yet good crisis communication is a kind of habit. It needs to be practiced persistently, or credibility will wane. Even stoic people can come to feel ill-served. "Playing catch-up, or worse, appearing to intentionally withhold bad news," Coston notes, "can make a bad situation worse."
Another kind of reality is that one of the most basic crisis skills, candor, the means of "getting out in front of any crisis," is very difficult to instill in bureaucracies.
"Telling the truth and telling it early, are key points to effective crisis communications," Coston notes. "Simple advice, yet it is often ignored." We'd make that good advice, simple is another matter.
Training, drilling and critiquing that produce instilled professionalism are required to produce candor in a corporate crisis. Even more basic, though, leadership needs to recognize that that's what it takes.
That's usually where awareness is most sadly lacking – at the top, early on, before a crisis strikes. Virtually by definition, crises are usually unexpected events. That makes awareness and prior engagement of the root defensive realities the essential starting points for effective crisis response.
This has been known, it seems, for eons now, or at least since the 1979 accident at Three Mile Island Unit 2. Yet corporate credibility crises keep occurring. "When, oh when, will they ever learn?" – Doug Bedell
Comments
Recently
Categories
Archives
Blogroll