Posted on July 15, 2011
Filed Under Business | Leave a Comment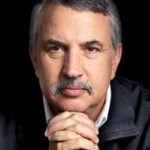 New York Times columnist Thomas Friedman has today's job market pegged as he writes about "The Start-Up of You." Something a lot of people, political leaders included, don't seem to realize is that brainpower is powering today's economic scene in more challenging ways than even. If you can't envision new ways of doing things using the latest technology, you're likely to lose out.
This writer discovered something like this two years ago after coming upon what became a course-changing client on Twitter.
Friedman cites the multi-billion dollar valuations of Silicon Valley companies like Facebook (nearly $100 billion), Twitter and Linked In ($8 billion each) and Groupon ($30 billion).
"These are the fastest-growing Internet/social networking companies in the world," he notes, "and here's what's scary: You could easily fit all their employees together into the 20,000 seats in Madison Square Garden, and still have room for grandma. They just don't employ a lot of people, relative to their valuations, and while they're all hiring today, they are largely looking for talented engineers."

Today's colleage graduates, Friedman adds, "need to be aware that the rising trend in Silicon Valley is to evaluate employees every quarter, not annually. Because the merger of globalization and the I.T. revolution means new products are being phased in and out so fast that companies cannot afford to wait until the end of the year to figure out whether a team leader is doing a good job."
Pressure and pace – these are key features of today's economy and job market. That's long been true, but now it's moreso. As President Obama and congressional leaders haggle over extending the nation's debt limit, they may not be fully aware of what they're actually facing – a new kind of high-speed, technology powered economy that makes it difficult to keep up with the sources national well-being. And that's what politicians are elected to do.
Tom Friedman notes that Reid Garrett Hoffman, one of LinkedIn's co-founders, has a book coming out next year called "The Start-Up of You," co-authored with Ben Casnocha. Grand life plans, Hoffman told Friedman, don't hold up anymore. "Entrepreneurs don't write a 100-page business plan and execute it one time; they're always experimenting and adapting based on what they learn."
Some of us have yet to learn that the economy is, first-of-all, a place for lifelong learning. Make that daily learning. Attentiveness to daily detail and priorities takes on a whole new meaning in today's context. "Where are we headed with this? Where could we be headed? How can we get there?" are the new questions, not simply "How're we doing?" – Doug Bedell
Comments
Recently
Categories
Archives
Blogroll