Posted on July 21, 2011
Filed Under Government, Technology | Leave a Comment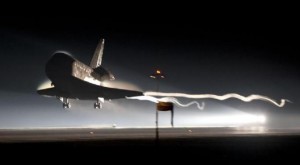 "Wheels stopped." With those words this morning, Atlantis completed the final space shuttle flight and ended 30 years of U.S. orbital space flights.
It can be argued that the space flights were exorbitantly expensive and not worth the outlay. We'd disagree. Expensive, yes, but learning often has high costs. The point is the learning itself, and the experience it provides.
NASA has reason to appreciate the generosity of U.S. taxpayers, and we taxpayers have more than a little reason to be appreciative of NASA and its astronauts.
They've taken us into orbit, many times now, and helped provide, among other treasures, those magnificent photos of deep space from the Hubble telescope.

But, possibly, the words most expressive of today's final shuttle flight were written in July, 1969, by speechwriter William Safire for President Nixon and, thankfully, not needed as Neil Armstrong and Edwin Aldrin successfully completed their moon landing:
"In ancient days, men looked at stars and saw their heroes in the constellations. In modern times, we do much the same, but our heroes are epic men of flesh and blood.
"Others will follow, and surely find their way home. Man's search will not be denied. But these men were the first, and they will remain the foremost in our hearts."
Thus, too, for the space shuttles and their astronauts. – Doug Bedell
Comments
Recently
Categories
Archives
Blogroll