Posted on July 24, 2011
Filed Under Government, Technology | Leave a Comment
Folly, sadly, gets to be repeated in nature as in life. That's how a report in the journal Nature Climate Change struck us just now.
So be extra careful.
What we're talking about is that pollutants known as "persistent organic pollutants," or POPs, that were outlawed in 2001 apparently are being released in the melting of Arctic ice due to climate change.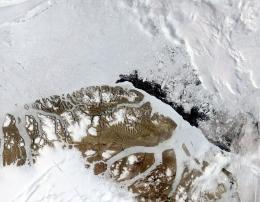 A study released in the journal looked at atmospheric concentrations of three banned chemicals – DDT, HCH and cis-chlordane – between 1993 and 2009 at a station in Norway's Svalbard Islands and another in the Canadian Arctic.
The study found, reports Physorg.com, "a slight rise in secondary emissions, from POPs that had been locked in Arctic ice and snow but were now being gradually released because of warming."

The three outlawed chemicals "are extremely tough molecules that take decades to break down in nature. They also bio-accumulate, meaning that as they pass up the food chain, concentrations rise, posing a fertility threat to higher species."
The photo here, from the Physorg site, shows broken ice floating in the Arctic off the northern coast of Greenland in 2004. What we have, apparently under the influence of global warming, is chemicals that supposedly were locked away in ice flows reappearing in the atmosphere as global warming continues.
Nothing we can think of at the moment better, or more grievously, illustrates the hazards in trifling with the environment as scientists seek a consensus on whether global warming is real and what it's consequences might be.
We've long felt that, with stakes like these, we ought to be acting as though warming is occurring until an unshakeable consensus is reached on the matter. Whether such accord is possible, the accumulating evidence is ominous indeed, now from banned chemicals that were supposedly locked away in ice flows. – Doug Bedell
Comments
Recently
Categories
Archives
Blogroll