Posted on September 1, 2011
Filed Under Business, Technology, The Writing Life | Leave a Comment
Ever been asked to write an employee handbook? That's a special challenge because you're writing on behalf of an organization for the people whose enthusiasm, support and creativity are vital to its success. They don't cotton to legalese or strictures. An effective handbook needs to be more than simply a recitation of rules.  We're talking, in effect, about technical writing with a human face.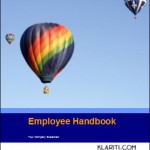 In this context, we've come across a website – klariti.com – with a page on "How to Make Employee Handbooks More Human." It's selling an employee handbook template, but it's modestly priced ($9.99) and might be good to have on hand. Beyond that, though, Ivan Walsh, the writer, has some pertinent tips for putting an engaging handbook together.

First off (and this is where many projects seem to begin these days), he suggests heading to Google, entering the term "employee handbook" and downloading samples that appeal to you. Sure enough, there are lots of entries for either generic or actual handbooks to consider,  many for downloading in the form of PDF files.
Walsh advises capturing the parts of the various manuals that you and your team find most interesting either in  an old-fashioned file folder or on Evernote, a free web filing app. Then pick two three as most pertinent to your own project.
Approach the whole design, Walsh urges, in a personalized manner. You're writing to be read and for your organization to be well-regarded, not merely coped with. "Share values not rules" is a Walsh stricture, because "Values are positive. Rules are (perceived as) negative. Open the document with an outline of what the company holds dear…" A statement of its vision and values would go nicely here.
Include stories, Walsh continues. Call them anecdotes if you prefer, but provide examples of desired corporate  conduct that everyone in the organization can relate to. Explaining why you have these values in terms of customer or regulatory relationships is advisable.
Next is a Walsh tip that you don't often see in handbooks – include input from employees themselves. "Approach employees personally and ask them to share something that makes them enjoy working at the company. It doesn't have to be 'epic', just something that others can relate to."
Including employee experiences can provide immediate verification and validation of a company's aims and preferred manner of doing business. The manual, says Walsh, becomes "a living document."
And, of course, he adds: Remember to include pictures. How many manuals that you recall would have been helped greatly by some photos to illustrate and enliven the work settings you're promoting?
Employee handbooks don't need to be tedious recitals of rules and processes. They can be engaging invitations to function creatively and responsibly at work. That, indeed, ought to be your aim in envisioning the handbook you've been asked to produce. – Doug Bedell
Comments
Recently
Categories
Archives
Blogroll