Posted on October 3, 2011
Filed Under Communication, Technology | Leave a Comment
Sharon Friedman, professor of journalism and a communication stalwart at Pennsylvania's Lehigh University, has now analyzed the news coverage of the world's three major nuclear power accidents – Three Mile Island in 1979, Chernobyl in 1986 and Fukishima this year. The coverage of TMI, she notes (dispassionate professor that she is), "was called abysmal". It improved somewhat for Chernobyl and, with the Internet a major factor this last time, "was much more extensive and much better in many cases because of the emphasis on explanations and background information and the visual and graphics capabilities of a number of media organizations."
Yet, in a current, magisterial article in the Bulletin of the Atomic Scientists, Professor Friedman remains dismayed over the overall quality of nuclear coverage, especially on CNN (which has the most time to devote to it), and troubled by the fading presence of newspaper reporters on the "nuclear beat" (which was never large to begin with).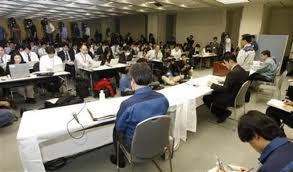 Certainly, her observations indicate that nuclear utilties should be schooling themselves in, and becoming proficient in using and monitoring, social media, for they are where future nuclear accident forums are bound to be held. (If that's a chilling prospect, it's all the more advisable to avoid a nuclear mishap in the first place.)
Prestigious news organizations like The New York Times, The Wall Street Journal, The Los Angeles Times, The Washington Post, The Christian Science Monitor and National Public Radio "rose to the challenge" of Fukishima, Professor Friedman feels. They, and other media outlets, not only covered the accident there, but "had links to and and updates from other web and social media sources. Readers comments were posted online, giving feedback to journalists and enabling dialogues that included opinions, answers to questions, and suggestions for other websites to view."
Such websites, of course, have a relatively fragmented audience, especially when compared to the "all-news, all the time" coverage of television's CNN. And that, Professor Friedman's summation indicates, was comparatively amateurish.
"CNN, operating on a much longer news cycle than the network news shows," she writes, "had much more time to provide explanations and graphics, but instead endlessly repeated video of the same scenes on a series of its shows during its early coverage. Filling so much airtime tended to highlight when the anchors, reporters, or commentators were not well prepared," and so on.
Time put to good, pertinent use will always be an essential component of effective public information. But to recognize what's at hand, and possibly at stake, requires trained, experienced journalistic intelligence, and we're likely to have less of that, rather than more, Professor Friedman fears.
"Unfortunately," she observes, "one of the Internet's impacts on US newspapers is that they are downsizing and consequently buying out or laying off many specialty reporters in the science, environmental, and health fields. Although some of these reporters are now working for online publications or blogging independently, their experience no longer enriches newspaper coverage.
"To properly cover science, technology, and health issues, particularly on the scale of the Japanese nuclear disaster," she adds, "the knowledge and experience of specialty reporters is greatly needed-and not only for newspapers but also for television because of expanded online coverage opportunities."
Where that integrative informational expertise will come from with traditional journalism so much on the wane may not be pleasant to experience. So, nuclear utilities, stay safe. – Doug Bedell
Comments
Recently
Categories
Archives
Blogroll