Posted on October 9, 2011
Filed Under Communication, Technology, The Writing Life | Leave a Comment
Along with all the tributes to Steve Jobs, and a virtually inexpressible sadness at his passing, comes a memory of the first Macintosh I encountered, and quickly came to love. At the time I worked at the Three Mile Island Nuclear Station, where I was the post-accident communication manager. That was not long after Apple Computer introduced the Mac early in 1984.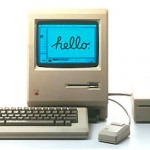 We were preparing to defuel the damaged reactor core and to restart the undamaged companion reactor. Permeating all the activity at TMI in those days was a renewed commitment to quality, to absorbing the lessons of the Unit 2 accident and building a strong safety culture. Employee communication was important to that end, and helping to improve communication was the Mac's role.

The Mac showed up one day in the Communication office, to the delight of us all. Until then, Island Currents, TMI's employee newsletter, had the look of a mimeographed publication. With its desktop publishing capability, the little Mac allowed us to start thinking in terms of columns, headlines and photos – actual layout – and enabled us to produce a more engaging product. It's desktop, with folders that could be moved anywhere, and called anything you wanted, was a knockout.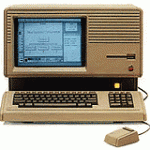 The accident recovery engineers who worked upstairs from Communications had themselves acquired one of Steve Job's Lisa computers, which Apple released a year before the Mac. Encore's Dennis Owen recalls how one of those engineers, Vic Fricke, served as the Mac guru, helping the upstairs Lisa and the downstairs Mac to revolutionize engineering graphics and employee communications respectively.
For the longest time, the Lisa and Mac were the only Apple products at TMI. Everyone else functioned with IBM PCs, which had the inside track on numbers-crunching and other workaday tasks.
As much fun as the Mac was to use, it was still a grueling task for the newsletter's editor to gather its contents and turn them into a polished layout on a weekly basis. Yes, you've got to be disciplined in using a Mac, but it's a creative discipline. After a while, as new, more powerful Mac models appeared, Island Currents became GPU Nuclear Power Points, an expanded Mac-based newsletter that served both TMI and GPU's other nuclear plant at Oyster Creek, N.J. So long as it can be handled electronically, a safety culture has no geographical boundaries. That lone Mac at TMI showed us all what was possible in terms of improved employee communication. It was a blessing indeed. – Doug Bedell
Comments
Recently
Categories
Archives
Blogroll