Posted on October 27, 2011
Filed Under The Writing Life | Leave a Comment
Put this aside for Halloween – next year's Halloween. Because if you're going to observe Halloween as Shawn Thorsson does in Petaluma, CA, it takes a full year to get ready.
This post is a bit of a spooked diversion, true. But we're indebted to MAKE magazine for introducing us to Shawn, who evidently goes BIG into whatever interests him. As MAKE puts it, "This guy doesn't make costumes and props, he creates something of a reality distortion field around him and his creations."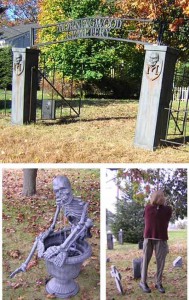 Or as Shawn himself puts it: "Halloween is where you really get to flex those maker muscles. It allows you to turn impressing your friends and neighbors into a two-pronged attack, dressing up your home and then yourself. And you can get away with a lot more, too. On Halloween nobody…er.. bats an eye if you spatter your house with blood, cover yourself in brain matter, and leave corpses strewn about your front lawn. The rest of the year, these are considered major faux pas (or at least that's what the local police keep telling me)."
So Shawn has "dressed up" his front lawn as a cemetery and himself as a Star-Trekker. He's happy to direct you to online resources for doing the same.
"For me," Shawn says, "the goal is to step out on Halloween night looking like I just walked off the screen of a blockbuster movie or video game," or through the portal of another world." Well, as long as he still has blood in his veins, that's fine.
As we see it, the technology of Halloween is as worthy of mastery as any other form of the craft. So get started for next year. – Doug Bedell
Comments
Recently
Categories
Archives
Blogroll